Wanneer:
20 november 2021 @ 18:00 – 21:00
2021-11-20T18:00:00+00:00
2021-11-20T21:00:00+00:00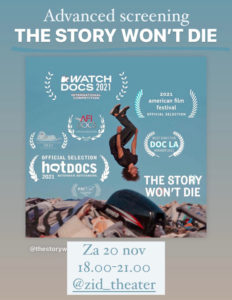 In the context of FATE, there will be a advanced screening of the documentary THE STORY WON'T DIE, followed by a Syrian reception and performances by various FATE participants.
THE STORY WON'T DIE is a documentary by award-winning filmmaker David Henry Gerson, about Syrian refugee artists. Bboy TheShadow, dancer and FATE-participant, uses his skills to stay positive and build a new future for his family. Together with other creative personalities of the Syrian uprising, a Post-Rock musician, a rapper, and visual artists, they use their art to rise in revolution and endure exile in this new documentary reflecting on a battle for peace, justice and freedom of expression.
FATE is an international project, focused on improving opportunities for creative newcomers (refugees and immigrants) within the cultural sector. In the past year, the group participants has followed a training at ZID Theater, and they are currently developing their own theater production 'Ik verloor mijn angst…
This evening is a collaboration with TheShadow, paying tribute to artists in exile and the power of creative expression during hard times.
TICKETS:
https://www.eventbrite.nl/e/an-amsterdam-advanced-screening-of-the-story-wont-die-live-performances-tickets-206292224597