Wanneer:
16 mei 2023 @ 20:00 – 21:00
2023-05-16T20:00:00+01:00
2023-05-16T21:00:00+01:00
Waar:
ZID bTheater
Roos van Dekamaweg 1 Amsterdam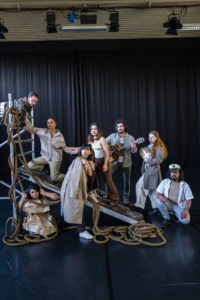 Twelve makers, newcomers from nine countries, about leaving home and life on the road.
CARGO H is a visual performance about leaving home, being on the road, and the personal journey that we all make. Pain, desires, reunions, dilemmas, and arriving at a new destination pass by in flashes. Twelve makers with roots in nine countries talk about letting go the familiar and being on their way to the unfamiliar.
About the performance
In CARGO H, the makers question the personal reasons for their departure. Are they related to identity, war, fantasies, dreams, or all of the above? The history of the Titanic inspired CARGO H, not the famous film with Leonardo DiCaprio and Kate Winslet, but the real story of the ship carrying 2200 people who left for the unknown. While we may see the story of the Titanic as romantic and adventurous, how does it relate to the way we view people today who leave their country by boat, plane, car, or even on foot?
With vibrant energy, emotional and physical play, the makers and performers search for the only right choice to shape their own lives based on their motives.
About the makers
CARGO H was created by the artistic team of ZID Theater in co-creation with the performers and makers. Daan Bosch, a theater maker who has been associated with ZID Theater for nine years, directed the performance. Sebo Bakker, the artistic coordinator of ZID, trained and coached the performers, and Karolina Spaic, director of ZID, primarily fulfilled an advisory role. It was a challenge to embark on an artistic process with young makers and performers from Syria, Turkey, China, Hong Kong, Iran, Russia, Argentina, Spain, Belgium, Kurdistan, and the Netherlands. An intercultural creative atmosphere was created from different languages, cultures, and theater backgrounds, to which everyone within the co-creative process could contribute.
Background information
ZID Theater works with upcoming talent, specifically makers with a refugee history or migration background. CARGO H is the successor to the successful performance NO FEAR, which was created in 2022 as part of the European collaborative project FATE (Future Academy on Tour in Europe). This performance is financed by the AFK with the goal of making the cultural sector more diverse and inclusive while providing opportunities to newcomers.
AFTER THE PERFORMANCE, THE AUDIENCE CAN MEET THE MAKERS AND ENGAGE IN CONVERSATION WITH THEM, RESULTING IN INTERESTING ENCOUNTERS AND IN-DEPTH CONVERSATIONS THAT BRING THE AUDIENCE AND MAKERS CLOSER TOGETHER.
Credits:
Director: Daan Bosch
Artistic coordinator: Sebo Bakker
Artistic team: Anahita Shamsavari, Igor Alvarez Cugat
Performers: Sarah Zakkour, Yamen Khalil, Dorothée Karekezi, Kuznetsova Olga Vladimirovna, Omar Mahmoud, Moamen Ahmed Mohamed Elsawy Mahmoud, Amanda Lee, Konstatin, Carmen García
Music: Ciwan Aydin, Qianyi Wang
Dramaturgy: Tomas Leijen
Director and artistic director FATE project: Karolina Spaić
Business management: Susanne Hazen
Production: Kasper Stern
Thanks to: AFK, FCP, Municipality of Amsterdam