Wanneer:
14 november 2022
hele dag
2022-11-14T00:00:00+00:00
2022-11-15T00:00:00+00:00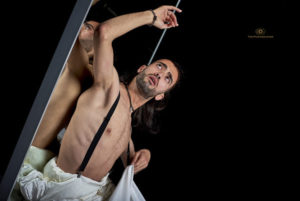 Monday November 14th ZID Theater visits Studio 7 theater in Germany for the FATE conference they host. All FATE partners from Spain (TNT/ Atalaya), Italy (Social Community Theater Centre Turin), Germany (Studio 7) and the Netherlands (ZID Theater) will be attending the event, and join the talks with presentations of the project.
Besides that, FATE participant Issam Zemmouri will perform his dance solo HISTORIA. He combines contemporary dance, physical expression and visual poetry. HISTORIA is a journey that stretches across the Mediterranean Sea and encounters different cultures, languages and civilizations.
FATE is a two-year project, committed to improving the chances of creative newcomers within the European cultural field. Both in the Netherlands, at ZID Theater, and in Seville, at Atalaya Centro, a group of participants has been trained (professionally and artistically) for almost two years and developed a theatre production. After a successful exchange and premiere in May 2022 during ExploreZ Festival in Amsterdam, both performances have been touring nationally and internationally. Partners Dah Teatar and Studio 7 both joined this tour with their own performances made within the project, while SCT has led the methodological development and created a handbook. Besides that the project has also developed a digital platform, held many conferences and meetings, and so created a strong network of involved organizations.
More information FATE: www.fate-europe.eu