Wanneer:
28 november 2021 @ 14:00 – 15:00
2021-11-28T14:00:00+00:00
2021-11-28T15:00:00+00:00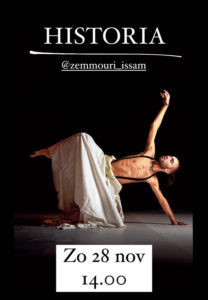 Missed HISTORIA during the ExploreZ Festival? Take your chance and experience the poetic dance solo of Issam Zemmouri on Sunday 28 November during the TONE exchange!
In his solo choreographer and dancer Issam Zemmouri combines contemporary dance, physical expression and visual poetry. HISTORIA is a journey stretching across the Mediterranean between different cultures, languages and civilizations. We are taken on a personal quest for liberation, along past, present and future. In this, an eternal struggle between the material and spiritual world takes place.
In the context of TONE – Talents of New Europe – ZID Theater organizes a week-long training-exchange with our international partners Social Community Theater Center (Italy), Integra (Spain), Odin Teatret (Denmark) and Residui Teatro (Spain). TONE aims to create a connection between creative newcomers (immigrants and refugees), European citizens and cultural and social organisations. The week full of workshops will be concluded with the festive performance of HISTORIA, which is open to the public.
Tickets via: https://www.eventbrite.nl/e/tickets-historia-zid-theater-tijdens-tone-209720939977