Wanneer:
20 september 2023 @ 10:00 – 13:00
2023-09-20T10:00:00+01:00
2023-09-20T13:00:00+01:00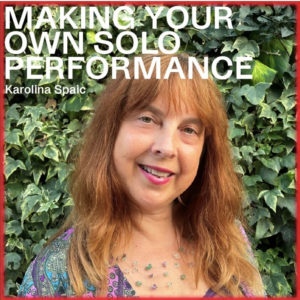 Karolina Spaic, director of ZID Theater has been invited to the International Frauen* Festival in Frankfurt Am Main from Sept. 18 to 24 with the theme: Feminism (inter) generational. This seven-day festival with theater, visual arts, workshops, music and talks brings together (inter)national creators from Germany, India, Spain, England, Denmark, Germany, Brazil and the Netherlands, among others.
Karolina will again teach the successful the 2-day workshop: Making a Solo Performance – from a Personal to a Universal Story, which was recently held at the International Festival for Human Rights in Belgrade, Serbia.
A workshop specially created to help creators on their way to create a solo performance in more disciplines, clearly working from one's own issue and choices.  September 19 and 20 from 10.00 – 13.00.
Karolina also participates in several roundtable discussions.
Also, the solo performance of Naima Baraka Rebel, a production of the ZID Theater and directed by Karolina Spaić plays at the festival, Wed. Sept. 20 at 8 p.m.
This special festival is taking place for the 7th time and is organized by Protagon International Performing Arts and curator Barbara Luci Carvalho.