https://zidtheater.nl/en/12416-2/
ExploreZ Festival is featuring a series of talented artists! We are thrilled to present the work of Artists in Residency program, part of the Remix Comix project. These incredibly talented individuals will bring their unique perspectives and creative styles to Amsterdam and collaborate for the Boom! Crash! Oh! Hello! Performance. From stunning landscapes to abstract compositions, each artist brings something special to the table, making this collection a true celebration of creativity and talent.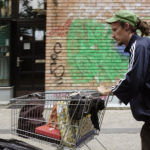 Danilo Milovanović – Slovenia
Danilo Milovanović is a visual artist that devotes himself to thinking about public space and the relationships between its users. In conceptual and street projects, he uses a wide variety of creative principles, from public actions and interventions.
His artistic practice is anchored in the urban space, from where he draws his inspiration and places his works; through his work he analyses and questions that open up important social issues related primarily to how we live as a community and what a community is.
The interventions, often barely noticeable at first glance, create cracks and disturbances in the established facade of urban life and exploit the conflicting relationships between nature and culture as well as between the conflicting interests that fight for supremacy in the cities. The artist uses guerilla tactics and a do-it-yourself approach – he certainly belongs to the creators who often cross the line between art and activism, but he is one of the few who consistently nurtures poetic substance and a peculiar subtlety in his work.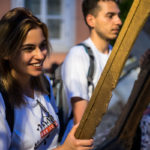 Darija Dragojlović – Serbia
When asked to elaborate on her work Darija Dragojlović said "During my artistic practice, the main focus has been the representation of changes, and new mechanisms that are created based on these processes. Observing the natural changes that, due to the influence of artificial processes, often take uncertain directions, I asked myself how I feel and what is the collective consciousness.
I was guided by the desire not to see my presentations as individual works that were gathered into a whole, but rather that the exhibition has the function of scenography that represents an uncertain, claustrophobic, melancholic atmosphere. In this way, the works serve as a reconstruction of the current situation, with segments that remain as samples or visual elements for a call to reflection, what they could have been, and what they will represent in the future."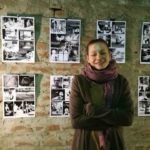 Iva Atoski – Serbia
Iva Atoski is a contemporary artist based in Serbia. Iva was asked to share more thoughts about her vibrant and expressive work "From large formats created under the influence of intense emotional states, sensations, questioning of public vs intimate values, anxious and ironic at the same, through expressive sculptures and surreal narratives of comic books, I have always strived to find new ways to materialize complexity of inner worlds.
While still nurturing ink and paper, always motivated to explore and innovate, I aim to incorporate my work in digital sequential art and interactive storytelling."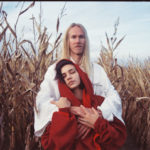 Miroslava Konecna – Czech Republic iva
Miroslava is based in Czech Republic and when asked to speak about her work she said:
"I am using art as a tool for understanding our psyche. I am always looking for ways to express where we stand on our inner journey. As a society, or as an individual. We can use visual metaphors, masks, stories or mythological creatures who have been forgotten to deal with our state of mind. To deal with the ever-growing world and navigate ourselves in the archetypes of our era. There is always a statement. In every piece, every moment we create. I mostly express myself through the masks, clothes, videos and literature."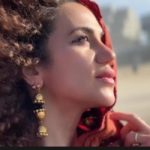 Nivin Barando – NL/Syria
Nivin has lived in the Netherlands for six years. She is an actress, journalist and dancer.. Until 2016, she was responsible as producer, journalist and presenter of Damascus' national Arabesque Radio Station. She also studied oriental dance and worked in TV as an actress and model. After arriving in the Netherlands, she picked up her long-cherished dream of performing in theatre and took part in ZID Theatre's two-year project FATE (Future Academy on Tour in Europe) and a show NO FEAR which was completed in December 2022.
She performed in the show One city, many faces at the OBA; has a lead role in the film Step by Step by Break Free Films. Recently she completed filming of the international Syrian political serial Smile Mr. General, which will soon be available on Netflix.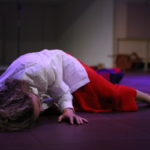 Jos Daamen – NL – Curator
Jos Daamen (1988) graduated from the Amsterdam University of the Arts (Bachelor of Dance in Education) in 2010 and thereafter received three grants to specialize in contemporary dance in NYC. In NYC she studied with Max Stone, Marijke Eliasberg, Jana Hicks, and several gaga teachers. Since returning to the Netherlands, her work practice involved teaching, creating, and performing. Her extensive teaching experience includes projects in primary, secondary and higher education, working with children in special education, music conservatory students and newcomers, among others. As a dancer she collaborates with international artists both in the Netherlands and abroad, having a special interest in the work of Gabriella Maiorino. Currently she works for dance company De Dansers, community theatre ZID and the Universities of the Arts of both Amsterdam and Utrecht.