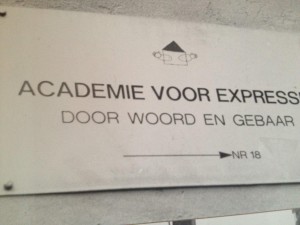 I have hardly decided to write a weekly blog or it is already in danger in the second week. We're is busy, we're extremely busy again. Is it the field in which we work? Where there is never enough money and always too much work and where you can't simply organise stuff directly, without detours? Everything we undertake has to relate to something or somebody and that takes a lot of time, thought, discussion, brainstorming, looking for solutions and organising. Only then we can go to our workspace to a workshop, where all is to happen. In relatively short time we will try to present some of our dreams in a theatrical way. In these final weeks of January, the entire Amsterdam cultural sector is nervously active because of the grant applications that have to be written every four years. Is it even reasonable to expect us to write new plans every four years? And is it possible to implement those plans in the next four years, even though they look so great on paper? Only too often, time or current events catch up with us, but so do rapid developments in society and world politics. Because let's be honest, nobody knows for certain what the world will be like in four years' time. Time is racing on and I am trying to summarise something of universal value. It is the only thing you can take with you to the future. It is the only thing that does not become outdated. Anyway, all this made the second week of January very hectic, this balancing between past, present and future. And then Jacky called to say she was in the Netherlands.
In 1984, I came from Belgrade to Utrecht to study at the international department of the Academy for Expression, which during my studies became the Hogeschool voor de Kunsten Utrecht (HKU – University for the Arts). My only fellow student was Jacky Bernabela from Aruba. Between us we were the international department, two people from totally different parts of the world. I had never even heard of Aruba, just as she had never heard of Yugoslavia. Our journey of several years through the Theatre Academy was a curious one, with many obstacles and cultural misunderstandings. We didn't understand the Dutch way of thinking and doing – and the Dutch didn't understand us. What was special, though, was that we understood each other: two girls, one from the Caribbean, from a former Dutch colony, and the other from the socialist country of President Tito. Despite the many obstacles, we both graduated and then went our separate ways.
In 1986, we went to Finland to present a just finished production under the name of ZID Theater there. She and I, Susanne, Catharina, Hans and Paik, in an old Volkswagen van. After that, we again went our separate artistic ways and lives. Jacky went back to the Antilles and we didn't see each other for 15 years, but we kept track of each other thanks to social media. And now Jacky is here in Amsterdam! How wonderful! We laugh together about so many things, and we look back to the Netherlands in the age of the Bhagwan, the squatters' movement and to much less people from other countries. Especially in Utrecht, at the Academy! We decide it's time to do something together again, as the winds of theatre and the inspiration they carry still blow. We are going to try to transcend time, to span time, to make up for time. We are going on a new, 'timeless' theatre adventure.