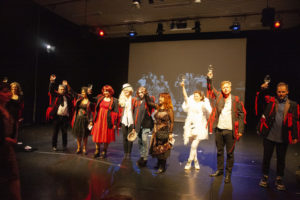 In her blog, Karolina Spaic, director of ZID talks about the vibrant projects of last year and about the new direction of ZID TheatreHerein, the focus is mainly on new performing artists, newcomers or those with a migration background, as in the successful FATE project.
A look back at 2022 and a look ahead to 2023
We look back on an exciting 2022 with pride and amazement. Since April, we were able to return to "normal" work after the confusing corona era. Then we were also working continuously, but that was mainly to keep things together. We went back to work with full force and conviction. We produced a fantastic ExploreZ Festival with performances from the Netherlands, Spain, Serbia and Germany. The performance NO FEAR, which we made with the participants of the FATE project – makers with a refugee past – exceeded our expectations. And then the international projects finally started again, for which we traveled to Spain, Italy, Finland, Germany, Romania, and Serbia to forge new plans, participate in conferences, give workshops and perform our performances. And then came the anniversary of 30 years of ZID, for which we created and played the location performance Re-Dreams, while turning our venue upside down. All this happened for a reason.
ZID Theatre has changed course since 2019. From 2011 to 2019, we made theatre with professional actors and local residents. We found that this quickly pigeonholed you into community theatre, but that was not the theatre we were making. Because through our working method, with this combination of players and local residents, we make theatre that stands for more, namely urgency and connection. In January 2019, nearly 100 of us took to the stage of ITA's Rabozaal. We were super proud of that, but at the same time we saw that we had reached the ceiling, that from now on it would be only "repeats". This coincided with the fact that more and more young makers with a refugee past and migration background were coming to us with the wish to continue working in the professional art and culture world. Our years of experience of working in an intercultural context and the working method we developed for this purpose then dared us to take a new step. We developed two European projects with international partners who we knew had the right tools to work with us. Both projects were funded by the EU, and we are incredibly grateful to have been given this opportunity. Thus began this new adventure and now, almost 2.5 years later, the first project of FATE- Future Academy of Talents of Europe – is coming to an end.
The main conclusion afterwards is that this clearly shows that our working approach works. And that it allows us to offer young makers and artists the fundamental basis to continue from here in the Netherlands, Europe or elsewhere. Meanwhile, a new group has started, fifteen young makers from seven countries, supported by the Amsterdam Fund for the Arts. And we want to continue with our approach, further develop our methodology and take our performances further into the world. Therefore, manuals were also created after these projects, to help interested cultural organisations in this working method, on their way.
To celebrate all this together once more, we would like to welcome you at the end of January 2023 in our venue in Amsterdam West, which we have renovated and optimised as a theatre space. It is home to all our makers and projects. Here, ZID's core group of professional actors and new young makers create theatre and multidisciplinary projects that are diverse, topical, and metropolitan.
Come to ZID during the National Theatre Weekend from Friday 27 to Sunday 29 January 2023 and see our performances created over the past year that we are so incredibly proud of.