APPLY FOR FUTURETLAB 2023-August 28 to September 1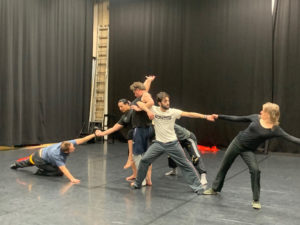 ZID Theater opens its doors and offers 5 nights of workshops in theater, physical play, improvisation and storytelling. Meet us and challenge yourself as a performer! Monday through Friday from 6:30 – 9:00 pm.
During a dynamic week of workshops, we will work together toward a presentation on Friday, September 1. Theater, storytelling and improvisation will be addressed, focusing on the performer and his talent. You get the chance to get acquainted with our way of working and can possibly join one of the (inter) national projects in the future.
For whom
This week is for theatre makers who are still unfamiliar with ZID's work, young people who want a challenge and performers who are already involved with ZID. This program is all about getting acquainted and exploring future collaborations.
– Stage experience is preferred
– You have to be present at a minimum of 2 workshops
Sign up yes through the link: https://forms.gle/urHBchvJmfoyRvEz6
August 28 through September 1
Monday 28/8 18:30-21:00
Tuesday 29/8 18:30-21:00h
Wednesday 30/8 18:30-21:00h
Thursday 31/8 18:30-21:00h
Friday 1/9 18:30-21:00uv
Costs
The program is free to attend.
Donations are welcome through a "pay what you can" principle. Everyone is welcome and can make a voluntary donation according to their ability. Donations are welcome, at the start and conclusion of the workshop.