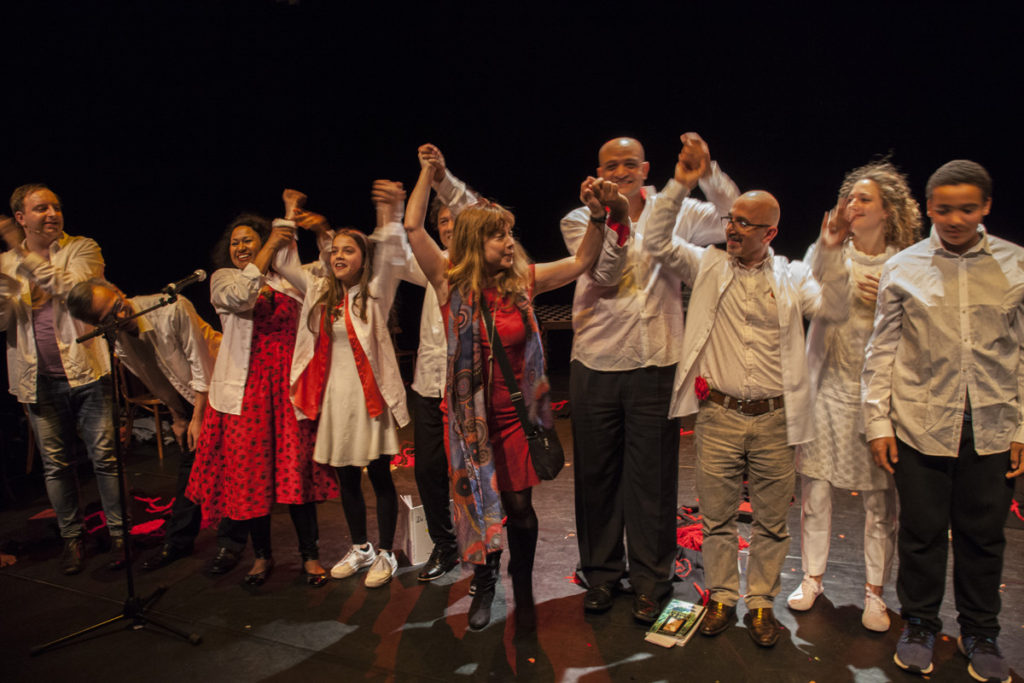 Love in times of … has been a two-year project by the ZID Theatre that is coming to an end now.
Stories were told, musical and theatrical performances were held in Amsterdam, The Hague and Amersfoort. Enthusiastic participants, townspeople, young and old have danced and sung. They had various cultural backgrounds, different interests and different life styles. They were people who discovered that creativity provided them with a platform for their talents and passions. It was such a positive, creative community!
At the time of the ExporeZ festival in December 2016, the performance Liefde Nu (Love Now) had its premiere in Amsterdam. Such energy!
Never before have I experienced such an enthusiastic response from the audience. It seemed as if the entire audience spoke and sang through the actors' voices. The performances turned out to be very special, both at the Meervaart Theatre and in the hall of Podium Mozaïek.
The performance of Liefde Hier (Love Here) will have its premiere in the Laaktheater in The Hague next Friday. The performance will also be held in Amersfoort in March. All three performances are created using the same framework, but the content is shaped by the stories and input of the actors. They have written their love letters in which they tell us about their lives and during the show they will start a dialogue with one another about what love means to them and to you.
Moreover, at the time of creating the performance we all wrote one love letter to someone or to something that was important to us. Many of these letters were used in the performances, the other letters were read out aloud in the foyer right before the show, and still will be read out.
I would like to share my love letter with you.
A Love Letter to Life
Here we are, we live our lives
But do we think about them enough?
Life, you give us strength
Motivation and love
You make it possible for us to exist.
But we do not think about you enough
We take you for granted and just keep going
Celebrate life, whenever you can!
You, Life, makes us into who we are
We must all follow our own path
Excited, sad, surprised
Always in motion
Looking for a motive to go on
Celebrate life, whenever you can!
Because of daily worries, emotions, politics
Because of all the options, choices, doubts
It sometimes seems that we forget about you
Celebrate life, whenever you can!
Pause, feel that you exist
That there are people around you, nature, the world
Go on and on, with all your heart
But do not forget
Celebrate life, whenever you can!
Karolina Spaic – February 2017