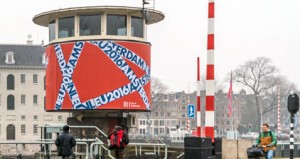 Week 1, January 2016 – All these questions…
It has been one of those weeks that I kept thinking: everything is starting at the same time, only I haven't really started up yet. How many people, how many meetings, how many dreams and how many new plans can one week hold? And what do I really remember about all of it? Until June, the Netherlands will preside over the European Union, I read in the papers and I've seen the billboards in the centre of town: Amsterdam EU 2016. But when I go to Amsterdam Noord there is not a single trace of this presidency to be found: no billboards, nothing! The same goes for the Slotermeer and Geuzenveld neighbourhoods. Is this presidency only for the centre of Amsterdam? I mean, with all respect for the centre, it's still a pity that so many people living mainly outside Amsterdam's ring road will probably not be informed.
Back in Geuzenveld, at the community centre. Two days ago, the local Kruidvat chemist's was robbed, but the people here don't seem particularly affected. Maybe they have seen too much already? It's a centre like many others in Amsterdam: well-equipped and with all kinds of facilities, so why don't more people visit it? What is this place missing in appeal? Who owns this place anyhow and who needs it? What can we really mean here with ZID Theater? How can we make a difference here? And why hasn't this been done a long time ago? It looks like all I have is questions. Is that even a good start for the new project? (Yet another question!)
The CulturalGuide training is intended to give residents tools to bring art and culture into the neighbourhood. The most difficult part is finding the right people; people who have a dream of changing the city, including the parts that lie outside the city's ring road. People who can find the courage to transform these places and make them appealing and interesting for everyone.
Back at our home base in Amsterdam West we hold a meeting. We discuss and discuss again. We talk about what new possibilities may present themselves if we continue in this building where ZID has been now for 13 years, sharing it with co-tenants, but will manage it collectively from now on? The idea is to create a big dynamic place here in Amsterdam West, where creativity reigns and a thousand different things can be realised. And we must get a clear picture for ourselves why we do the projects that we do. Here in Amsterdam, but also in The Hague and Amersfoort and much further afield, later in May in Italy, in September in Serbia and Greece. We sometimes stop and ask ourselves: why go so far away, really? Yes, of course it is an exciting European project, but ZID always and foremost wants to make a difference, not simply perform a trick.
So the first week of the first month of this year is a week full of questions. Questions, questions, questions.
May 2016 be a year that provides as many answers!
Karolina Spaić, Amsterdam, 10 January 2016.