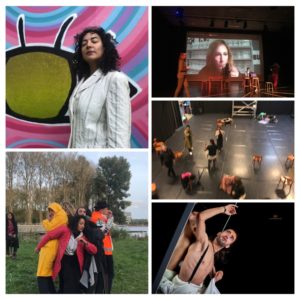 When we were making plans for the festival in October 2020, Corona wasn't an issue yet. When the first wave arrived in March and was over in June, we had hopes the virus wouldn't come back. But unfortunately the entire ExploreZ festival was dominated by the emerging second wave.
We decided in advance to let the festival run for a longer time – namely 3 weeks instead of 1 full week – to prevent too many people, guests and creators being around at the same time. This was a big contrast with the 4 previous editions, when hundreds of people, guests and makers were simultaneously participating in the festival that lasted only 1 week.
This time, the programmes became smaller in terms of number of participating performers and we did not have groups such as choirs or dance groups perform at the festival.
Despite all this, the festival was a big surprise, full of research, experiment and innovative concepts. We also reached a super enthusiastic audience, offline and online, who visited and followed the festival in all kind of ways.
I can safely conclude that the festival was a huge success, had a very good energy and received many positive reactions.
What was the impact of Corona?
Quite a lot, because people, both makers and the audience, initially had a wait-and-see attitude, will it go ahead or not, will I go or not …? After the aforementioned adjustments, the international guests from Studio 7 in Germany, Potlach Teatro from Italy and Bawa Iwayan from Indonesia cancelled. It was no longer possible to travel to Amsterdam. Such a shame, because the first festival week was all about the international project Choose & Dare with Studio 7. But because we already cancelled the project in March, we were now well prepared for a digital and hybrid alternative.
Then the first press conference about the upcoming second wave was broadcasted and it became clear that you shouldn't travel within the Netherlands either. At that moment, a number of young players decided to physically work at ZID as much as possible and to stay in Amsterdam. Some performers still had to drop out, but the group that remained was more motivated than ever. In Germany the disappointment was huge and a number of people also cancelled. Nevertheless, we had a very exciting week in which digital workshops and concepts were created which resulted in a digital project that alternated live and online content.
The successful presentation which was digitally broadcast and shown live at ZID, released an immense energy and made it into an extremely successful experience.
But the first performance of that week that was 'Teleater', played live at ZID by Cèlia Tort Pujol for a small public. It was an investigation into the collaboration between oboe music, life stories and visual elements, which resulted into a very successful and intriguing performance by the talented oboist and her master project. What struck me was that the audience greatly enjoyed the after-talk and the closeness with Cèlia. This atmosphere was repeated again and again when the after-talks took place. Never before have I experienced such intense and interesting conversations as during the ExploreZ festival in 2020. People took the time to get to know the artist better, to express their appreciation and ask interesting questions. People clearly had time and the need for more depth than before the corona crisis.
For the productions of ZID Theater, this was one of the most difficult periods, because all three-group-productions that were planned were cancelled in their original format. Just before the start of the festival, the first Corona press conference announced the restriction for more than 30 people in a theatre venue. The day after, the location and theatre project One City, Many Faces in collaboration with OBA was cancelled. The creators of the project already started with inspiring encounters, creating videos and conversations. This decision clearly had an impact.
After this, it was also decided to cancel the Best of ExploreZ programme at Podium Mozaïek. A programme in which a large group of players and dancers would participate could only be shown to a very small number of audience members. That was impossible because there would be almost more people on stage than seated in the audience. Besides, everyone interpreted the rules differently and it became clear that we couldn't perform the programme in its original form. What do you do? I had my doubts and in the end we had to make the decision and called it off. With pain in our hearts. At that time we still hoped that our new project Invisible City #1 would continue at the magical outdoor location of Buurtwerkplaats Noorderhof in Amsterdam New West.
When we were finally in the second week of the festival, the second press conference announced that it was prohibited to be at an outside location with more than 4 people and festivals were banned. The only thing that was possible was to film the rehearsals the following day, Wednesday 24 October, which we did in the cold and rain. 15 children who were also part of the project were freezing outside while we had to cancel the opted performances at the weekend. The film had turned out very beautifully and we showed it exclusively online on the days of the performances. We received enthusiastic responses from the Netherlands, but also from Spain, Serbia, Italy and America. That is the advantage of working digitally, the world is your stage and you can reach all audiences!
Only the presentation of the children went ahead at ZID Theater. They enthusiastically showed their performance A Cool Place after a week of hard work. It was vibrant and hopeful; we noticed the enthusiasm in the children and the parents. After the performance we had a conversation with them and everyone wanted to continue with creative workshops and creative lessons.
That's when we decided to continue working with children every Friday. Normally we would take a longer time to make a decision, but now we saw the need so tangibly that we made the decision with good hope that funding will follow. Children clearly need extra things after school, want to have fun and discover new things together.
The third week of the festival was all about the identities of the player, and the relationship between his own world and the world around him. Three projects were planned. ID-Entity: a collaboration between Creative Performance Lab, a Master's programme of the Amsterdam Conservatory, and ZID Theater. Sebo Bakker of ZID and Bawa Iwayan from Bali would work together on this. Because Bawa could not come to Amsterdam, only Sebo would work with the students. Due to the strict measures that the Conservatory had to take, the entire project had to be carried out at the Conservatory itself and eventually an audience of 7 people could see the performance live. Fortunately, the project was live-streamed very well and had enthusiastic followers online. The project showed the extra intensity of the performances, which was surprising and new. The performers mainly conducted in-depth research into the relationship between their own story, instrument and theatricality.
This was followed by two evenings at ZID Theater with solo performances. On Saturday 23 October, Christian Guerematchi presented his new solo NAM- Not Aligned Movement, which was premiered a few days earlier in Theater de Meervaart. An impressive quest for the Afro-Balkan identity of a Slovenian dancer with African roots. In an intense after-talk conducted by Fabiola Veerman, the public showed a lot of interest in the situation and Christian's experiences, growing up in former Yugoslavia. I was also able to contribute with my own experiences from my youth in a utopian society, which I had experienced as particularly pleasant.
The following day we showed two work-in-progress performances: Rebel by Naima Baraca and Historia by Issam Zemouri, which were created at ZID Theater. Two new talents, each with a separate personal story, made a solo about the way in which they stand in the world.
Each performance was followed by a conversation with a very curious and enthusiastic audience. In Rebel, Naima Baraca portrays a woman with multiple characters: a boxer, a diva and a granddaughter. The woman is clearly looking for her own identities and connections between all facets of herself. In Historia, Issam Zamora takes the audience through a personal journey, in which he sketches a dream world where anything is possible. With strong visual elements, he asks who determines how you should live and who you are. Unintentionally, the performances had a strong connection with each other and were received very positively with great interest in the finished performances that follow.
These performances officially concluded the festival. On Monday 26 October an interview was carried out on Radio Noord-Holland about my appointment as a knight last spring, which was a bizarre experience during corona as well. We also spoke about the ExploreZ festival 2020, an unforgettable experience where we searched every day for the possibilities to share our performances, conversations and research with the audience and about the unbridled energy of our team that continued to improvise in these times. But mainly the intensity of the festival and the communication with the audience both live and online has given us a positive boost. We got a boost to continue and we felt a clear need to bring the festival to a successful conclusion. This allows us to go back to the words of Eugenio Barba, of Odin Theater: "Make the impossible possible", for which I am eternally grateful to him.
We move on and look forward to the ExploreZ festival in May-June 2021!