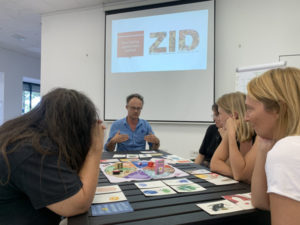 29 October 2022 | 13:00 – 15:00 | Novi Sad | Serbia
Karolina Spaic and Sebo Bakker of ZID Theater will give a workshop StoryCatcher on Saturday 29 October as part of the European conference Remix Comix: Comics for Heritage. The StoryCatcher game is a method used in various creative processes when working with storytelling techniques. Come share stories and learn something new!
The conference lasts three days (from 28 to 30 October) and aims to connect the world of comics and illustration with cultural heritage and other art disciplines. The conference is part of the European project Remix Comix, in which ZID Theater is a partner. The conference was prepared by the projectteam, Novi Sad – European Capital of Culture, in collaboration with historian and writer Guido van Hengel. The leading international names from the comic strip and related disciplines will give workshops, presentations and lectures.
Location: Fabrika, entrance 2 (ex Route 66), Bulevar Despota Stefana 5, Novi Sad, Serbia
More info: https://remix-comix.com/conference/event-schedule/