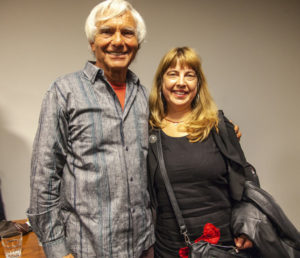 It was at the beginning of April 2019 that an odd strange message appeared on Facebook – Eugenio Barba, the founder and director of the famous Odin Teatret theatre group, is to leave the Nordisk Theatre Laboratorium. With a certain amount of dread, I searched FB in the attempt to gather more information. What I found was in Italian and Spanish and even with the help of Google Translate I failed to understand everything. I went to the site of Odin Teatret and saw the same message there, as well as the letter by Eugenio Barba announcing his official departure from the Directorate on December 31, 2020. Eugenio Barba, born in 1936, will be 84 years old at that time. The Directorate will be spearheaded by Julia Varley in 2020 and a new director will be appointed in 2021, elected from the theatre's management council. Also, there was an open call for a new director. What uncertainty!
To make it all even more mysterious, a couple of days later I received an e-mail from Eugenio Barba containing a single sentence: Dear Karolina, I will keep on dancing according to my own rhythms, hugs Eugenio.
I felt some relief then, as I realized that a decision had been made, although Eugenio Barba's era will never end, as he will carry on with his art evermore.
This made me ponder how best to describe my relationship with Eugenio Barba and his Odin Teatret, an association that started at the very beginning of my professional work as a theatre director and artist. A relationship that developed, changed and was reworked during the years, resulting in us working together during the last four years within the framework of the European Caravan Next project, and meeting up more often than ever.
Dear Eugenio,
I have no words to describe how elated I have been all these years about the possibility of working closely with you and your Odin Teatret, thus developing my work and faith in theatre. The theatre, as an incredibly powerful artistic discipline, will survive all possible media fervour and updating because it is unique in the ability to create a connection between two individuals: the actor and the audience member. This is something I have always believed in, since childhood, and you have given me all your support.
Throughout all the years that we have known each other, I have been following the work of the Odin Teatret and only I recently realized that almost everything I know about the theatre, I learned from you and Odin. Since you are not a school, you have no curriculum or a teaching method, the learning came about as it did with the old masters, by using one's own creativity and being given the opportunity to correlate it with your work and development. Introspection.
In my work, I consider that theatre as a total experience in which the images, movements, voice and musicality, the words and the energy of the actor make us part of that experience, as actors or as the audience. Theatre can even be much more than that, there is also the prospect of an encounter with the unknown, of establishing an interaction that blooms and pervades a city, a village, a country, the planet. In fact, the networking of all those who believe in human contact is the foundation of creativity. That's how my work with the community took part from our base in Amsterdam. The work continued to expand across borders and so far we have helped connect hundreds of people on the stage – the performers and the audience. Faith in the power of creative work can transform people and society.
By following and learning from ISTA – the International School of Theatre Anthropology – for 10 years, from 1995 in Umeå in Sweden until 2005 in Wroclaw, Poland, I have been disassembling theatre, dance techniques and acting from Indonesia, Japan, India, Brazil and other non-European countries. I kept them in line with my everyday work in multicultural Amsterdam, where artists and people from all over the world, statistically from 180 countries, dwell in this small space together.
Investigating the possibilities of linking various non-Western theatre techniques and experiences has led to the fact that my own theatrical language belongs to no single culture or expression, but rather, it is universal and international and can be mapped in many places and in different cultures.
At ISTA, we had the best professionals, such as, among many others, the unforgettable Sanjukta Panigrahi, grand master of the Indian Odissi dance art, Cristina Wistari Formaggia, a master of Balinese dance and Augusto Omolu, a master of the dance of the Orixás from Brazil. They are no longer among us, but their work has enabled us to see a new possibility of reality, where oriental and occidental techniques go through a transformation while in communion and become a new form of expression – a universal theatrical language most evident in the Theatrum Mundi project, where dance, acting and incredible music become a new universe.
ISTA is just one part of the innumerable projects and performances that the Odin Teatret and the Nordisk Theatre Laboratory have created and which I have been following for years. Every time I enter the Odin Teatret, when I go through the entrance, I feel like I'm coming home: one of my three homes, Belgrade, Amsterdam and Holstebro. How nice it is to have as many as three places to feel at home!
Also, every time I am surprised that another structure was erected, a tower or a summer scene. Odin grows, something is always being upgraded, it is never completely finished, and everything new has the same aesthetics, natural and warm, so that all guests from all over the world feel welcome. And always all the warm greetings from the people who have been working here for years and who consider the theatre their second home and always new young artists from various parts of the world doing research, rehearsing, staying at the residence, working together. Odin never stands still and this is your strength and your way. There are the tireless tours all over the world, and I remember when the Transit Festival had just ended and the performances leaving for South America, China or elsewhere were being packed, and you were already flying off to other places.
I believe that Odin's Teatret is the theatre that has toured in the most countries in the world. I have no idea if you checked that, but if you haven't, it would be possible, as Odin has a huge research department, archives in which there is industrious work on the legacy and preservation of its past and countless studies and records on Odin.
I have always struggled with the dilemma of why theatre has such a transient character that nothing remains after a past performance, as everything that remains cannot make the same impression as experiencing the show.
I believe this is the source of the fear about this departure, your leaving the position of director. I believe and I know that much will remain, that it will be transformed and that something new will come out of everything, lasting within the new generations. Again, I'm gripped by fear and I think that's understandable. How to defeat transience? Perhaps this fear is totally unfounded, as I believe that at Odin everything is very well directed and planned in detail. Still, the theatre exists or it doesn't, a show is performed or it's not, we are either part of it or not. Some questions remain unanswered, along with the idea that it is sometimes necessary to believe in a good outcome.
I find peace in this and I believe that Eugenio Barba's dance will last for a long time, according to his own rhythm. I'm recently working on the theme of Odyssey. As the character said: I wish you a great journey to your Ithaka!
photo: Maria Morales