When:
2022-10-28T00:00:00+01:00
2022-10-29T00:00:00+01:00
Where:
Fabrika | entrance 2 (ex Route 66) | Bulevar Despota Stefana 5 | Novi Sad | Serbia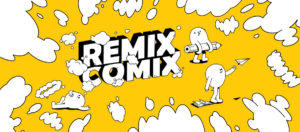 The European project 'Remix Comix' is part of the official programme of Novi Sad, the European Capital of Culture. The project aims to bring together artists, designers, makers and museum professionals from different European countries and to connect comics and other art forms, such as visual arts, music and theatre, in public space.
On 28, 29 and 30 October 2022, the first AIR (Artists in Residency) of the Remix Comix project will take place in Novi Sad (Serbia), a three-day conference with workshops, presentations and seminars. This conference 'Comics, Heritage and Contemporary Art' will inform the public, create new networks and involve local and international comic artists in the project.
The conference will take place in the Creative District of Novi Sad. Lara Bakker and Hajar Fargan will present the Story Catcher game on behalf of ZID Theater, as a method for collecting the unheard of stories about the heritage of different communities. This approach will be applied in all partner countries of this project (Serbia, Slovenia, Czech Republic and the Netherlands) over the next 2.5 years.
The conference is the kickoff event for the Remix Comix project. The conference will take place during the Novi Sad Strip Weekend, a festival for comics (as part of the 'Comics City' project, which takes place in Novi Sad from 16 to 30 October).
Check here for more info and the full program: https://remix-comix.com