When:
26 November 2019 @ 13:00 – 16:30
2019-11-26T13:00:00+01:00
2019-11-26T16:30:00+01:00
Where:
De Hallen Studio's
Amsterdam West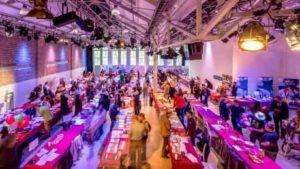 Op zoek naar (vrijwilligers)werk, een werkervaringsplek of een stageplek? Scholing of training? Op de beurs staan weer allerlei organisaties en ondernemers uit West die hierbij kunnen helpen.
Sebo Bakker geeft als onderdeel van de talentenbeurs zijn training Jezelf presenteren op 18 en 21 november van 3 tot 6 uur. Ook is het ZID Theater aanwezig met een stand voor informatie en is Sebo Bakker host van de dag.
Het voordeel van de Talentenbeurs is dat je gelijk afspraken kunt maken. Dus: je zoekt en vindt (vrijwilligers)werk en meteen bespreek je met iemand van die organisatie het hoe, wat en waar. Zo maak je gelijk werk van de plannen die je hebt! erswerk, stageplekken en trainingen voor jongeren en volwassenen.