FATE – Information for cultural organisations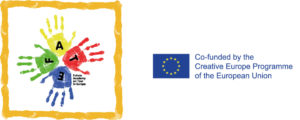 Future Academy on Tour in Europe – FATE
a European project for creative Newcomers/refugees
Information for cultural organisations and institutions in art education

FATE stands for Future Academy on Tour in Europe and is an international project granted by EU / Creative Europe.
Period
The project will run from October 2020 to December 2022.
Why
The aim is to help ensure that creative young people with a refugee or migrant background and ambition to build a career in the arts sector have equal opportunities compared to European artists and creatives on the job market of the cultural sector.
The project is meant for people with ambitions as a performer, or with ambitions to work behind the scenes and within cultural organisations.It concerns various creative professions in theatre, dance, music, film, literature, visual arts and supporting fields such as production, marketing and technology.
Various studies have shown that in Europe, participation in the professional arts and culture sector of these young people is still minimal. Extra attention is needed to ensure that they can participate fully and sustainably in the cultural life of their new city, region, country and continent.
Because the EU recognises the need for this problem, we recently started this project. In this project, ZID Theater (Netherlands) works together with the international partners Atalaya Teatro (Spain), University of Torino (Italy), Studio 7 (Germany) and DAH Theater (Serbia).The project will operate locally and at European level in the four partner countries.
Local partners who want to be involved
We are looking for cultural organisations and institutions in art education that are motivated to be involved in the project. We want to create a win/win situation.The Dutch group of participants consists of 25 young people. They get to know various cultural organisations and art schools.Organisations that want to be involved will be invited to some meetings in the period from February to June 2021, including attendance at one or more training sessions of the participants.
The goal is to match as many participants as possible with the sector.
After the training, there will be various follow-up activities such as making a production, visiting international festivals, creating a European digital platform and international exchange.
Are you interested in being involved as an organisation?
We can imagine that you are interested, but that you would like to know more about whether the project could be relevant for your organisation.
Please contact for more information: Karolina Spaic, info@zidtheater.nl, De Roos van Dekamaweg 1, 1061 HR Amsterdam, 020-4888449, www.zidtheater.nl