FATE – Information for Participants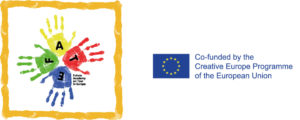 FATE – Future Academy on Tour in Europe
a European project for creative newcomers and status holders
Information for Participants
FATE stands for Future Academy on Tour in Europe and is an international project granted by EU / Creative Europe.
Period
The project will run from October 2020 till December 2022. The first day is February 21 2021. Location: ZID Theater in Amsterdam.
For who
Creative newcomers, migrants and status holders with ambitions in the cultural sector and arts education.
Goal
With FATE, we want to ensure that creative young people with a refugee or migrant background and ambition to build a career in the arts sector have equal opportunities compared to European artists and creatives in the job market of the cultural sector. This can be as a performer on stage or behind the scenes and within cultural organisations.
It's aimed at various creative professions in theatre, dance, music, film, literature, visual arts and supporting fields such as production, marketing and technology.
Who can participate?
Have you recently come to live in the Netherlands? Or have you lived here for a while but never got around realising your artistic plans? In that case, FATE is an excellent opportunity for you to develop your ambitions.
– You are between 18 and 35 years old
– You have the ambition to work in the arts sector as a performing artist or 'behind the scenes' as a photographer, filmmaker, technician, manager, marketer
– You are available for 12 hours per week, on Sundays from 10.00 – 15.00 and on Thursdays from 15.00 – 18.00, from February 21 until June 2021 – The first training day is on Sunday February 21, 2021. Location: ZID Theater in Amsterdam.
– You commit yourself to this project for 2 years (start February 2021 – end October / November 2022)
What does the project entail for the participant
February – June 2021 Training and individual coaching of +- 12 hours per week during which:
• You become acquainted with the arts sector and art (pre) courses in the Netherlands
• Learn skills needed to realise your ambitions
• Build a portfolio
• Build a network in the Netherlands and Europe
September 2021 – February 2022: Practical internship – creating a multidisciplinary production together, in which you are involved in your speciality as a performer, teacher, director, marketer, manager, technician etc. The production will be performed in the Netherlands and Spain.
Membership of international Digital platform
During this international project, you will meet cultural organisations and makers from Spain, Germany, Italy and Serbia.
Costs
Participation is free of charge.
At the end of the project, you have developed a portfolio and you will receive a certificate. The aim is that you can start working for a cultural organisation or in arts education after completing the process.
When and where
The training takes place on Sundays from 10.00 – 15.00 and Thursdays from 15.00 – 18.00. The first day is February 21 2021 – the training will end in June 2021.
Location: ZID Theater in Amsterdam.
If the measures with regards to corona do not allow this, we will start the training digitally.
International partners
In this project, ZID cooperates with the international partners Atalya Teatro (Spain), University of Torino (Italy); Studio 7 (Germany) and DAH Teater (Serbia). The project will operate nationally in the four partner countries as well as at a European level.
Are you interested and want to sign up?
You can register by sending an email with a short Introduction about yourself. We will then contact you for an intake and selection interview.
More information
We can imagine that you are interested, but that you want to know more about the project. The best thing to do is to send an email with a request for us to contact you. We will then contact you.
ZID Theater: info@zidtheater.nl
De Roos van Dekamaweg 1
1061 HR Amsterdam
020-4888449
www.zidtheater.nl