FATE: Pitch presentations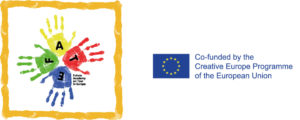 Location: ZID Theater, registration required
17 June, 16.00-17.30
On 17 June, the FATE – Future Academy on Tour in Europe – participants, young makers from different disciplines, will present their personal pitches to a number of professionals, partners and interested organisations. This allows them to present themselves and shows the audience what they have to offer to the cultural sector in a creative way. FATE is a project that focuses on improving the opportunities for creative newcomers within the cultural sector. In recent months, the 28 participants have made great progress and have developed on a personal level through intensive training at ZID. We are very proud to present this talented group to you on 17 June. These newcomers want to continue as an actor, dancer, choreographer, singer, musician, photographer, video maker, producer, designer or visual artist. They have knowledge, education and experience.
Thanks to the funding of EU – Creative Europe, we can support these motivated people here in the Netherlands.
Do you work in the cultural or social sector or in a sector where you can deploy creative people? Would you like to come and see this and get to know us?
You are most welcome! Register here in advance due to a restricted number of seats: https://forms.gle/6gRNvYwuYo4f1FXy5