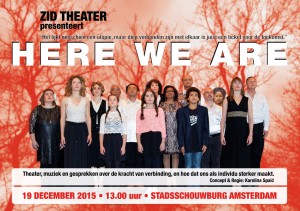 ZID Theater presents: HERE WE ARE
DECEMBER 19 2015 STADSSCHOUWBURG AMSTERDAM, RABOZAAL, 13.00
A ZID programme in which theatre, song and dance demonstrate the power of human connections.
By combining theatre, music and contributions by our guests we demonstrate the power of human bonds and how they makes us stronger as individuals and groups. 15 actors between the ages of 11 and 80 from all parts of the world deliver a personal statement about our own times in which we are all inextricably linked.
"It may sound utopian, but profound mutual solidarity is actually our ticket to the future!" (Karolina Spaic, artistic leader of ZID Theater)
In the stage set of Kings of War by Toneelgroep Amsterdam, neighbourhood actors from Amsterdam West tell their stories about solidarity. Mahmoud Ibrahim has a wonderful personal story about how he came to Amsterdam and gives his personal vision on war and the terrible things that people do to each other. Lara Bakker, who participated in The Voice Kids, takes us on a tour of the world of kids growing up in Amsterdam, together with Imane Bekkaoui and Emmanuel Lucas.
Interviews with guests
Moderated by Lex Bohlmeijer, special guests speak about their personal motivation to address the theme of connection in this day and age. Publicist and Islam expert Enis Odaci tells about his work, in which he looks for sparks between people: it all starts with small and personal contacts. In his recently published book De zeven zuilen (The Seven Pillars), Odaci, together with the Reverend Herman Koetsveld, challenges prominent Dutch people to speak about God, spirituality and the spirit of the times. Sandra Doevendans is a PvdA politician in the province of Noord-Holland and is committed to the empowerment of women and especially Muslim women, and coaches VMBO students. With her project 'Blik op talent' (An Eye for Talent) she encourages people to participate society in every possible way. Atta de Tolk is a word artist: with his summaries in rap he builds bridges between street kids and the organisations that work with these kids. By stimulating young people to explore their talents he helps them create positive links with their environment. Jeritza Toney is a singer, presenter and theatre maker. Kai Erik Bredholt of Odin Teatret in Denmark is working with ZID on a European community art project. Ronald Mauer, D66 administrator in Nieuw-West also participates in the conversation.
The programme HERE WE ARE is inspired by Wish you were here by Toneelgroep Amsterdam and further developed in ZID's very own style. It is performed in the stage setting of the production Kings of War, by Toneelgroep Amsterdam. For ZID this concludes the year 2015, showcasing all the participants and elements of the various projects undertaken this year: CulturalGuides, Theatre Tables and StoryTellers 65+.
Concept / Director: Karolina Spaic
Artistic Team: Sebo Bakker, Daan Bosch., Jos Daamen and Dido Mirck
Visual Concept / Costumes: Monali Meher
Text Advice: Wendela de Vos
Composer/Soundscape: Fiora Beuger
Production: Eva Hetharia
Production Assistant: Saskia Tilanus
Technique: Saskia Mourik
Actors/Dancers: Gökhan Aksoy, Hinde Backer, Ista Bagus Putranto, Lara Bakker, Sebo Bakker, Imane Bekkaoui,  Jos Daamen, Mahmoud Ibrahim, Nanda Jagdew,  Emmanuel Lucas, Marieke Lucas,  Dido Mirck, Loes Raymakers, Claribel Rodriquez Castillo, Ortwin Tjon Sjoe Sjoe
Admission: € 7.50
Tickets available here
The theatre ticket is also valid for free transport by tram and bus in Amsterdam. Read the conditions here.