International Theatre Training Week – TONE – November 21 – 28 at ZID Theater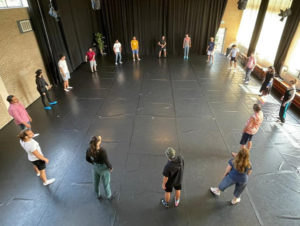 As part of the international project TONE- Talents of New Europe-, funded by Erasmus+, we are excited to host professionals and participants from four countries in November 2021 at ZID Theater. In Amsterdam. Representatives of Nordisk Teaterlaboratorium – ODIN Teatret, Denmark, COREP- Social Community Theatre (Italy), Integra (Spain), Residui Teatro , Spain) and ZID Theater, the Netherlands, initiator and leader of the project, will have an extensive training week, exchanging working methods.
There will be various training activities, workshops and masterclasses organized and we will explore best practices together. The partners will work towards the development of a training handbook that will include training material and valuable insights for teachers, trainers, and theatre professionals. The handbook is an intellectual output of the project and more results will follow on a later stage.
A website specifically dedicated to this project will be launched soon!
Tone, Talents of New Europe- aims to build bridges between refugees and migrants that want to work in the cultural sector and the cultural organizations in four countries. The goal is to ensure equal opportunities for all in the European cultural sector.
ZID is the coordinator of the project that was awarded by the Erasmus+ program and together with the international partners and professionals, will be working on different intellectual outputs and deliverables.