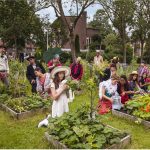 Join us at the Rembrandt Park festival on 2 October, for a theatrical journey of discovery along many special places in the Rembrandt Park where the theme of love keeps cropping up.
Journey Full of Love
On 2 October, ZID Theater takes part in the Rembrandt Park festival with the low-threshold and surprising Journey Full of Love.
A colourful group of performers from ZID welcome you in the Love Tent and then take you on a love adventure along various locations within the park. In the Love Tent you can write a love letter or a love poem together with poet Gökhan. The secrets, possibilities and impossibilities of love are revealed in unexpected places. Love – a universal force that connects, but can also destroy.
The Journey Full of Love takes only 30 minutes and will be made several times during the day (the exact schedule will be announced later).
The players are: Gökhan Aksoy, Lara Bakker, Imane Bekkaoui, Ista Bagus Putranto, Emmanuel Lucas, Marieke Lucas, Joske Damen, Ortwin Tjon Sjoe Sjoe, Szymon Lechwar, Barry Romeijn, Hatice Simek, Steven Bosch and Tina Wetering-Pereira.
Concept and direction: Karolina Spaic, Daan Bosch, Sebo Bakker