La Corde – by Theatre Issil, Rabat
ZID Theater invites you
La Corde – by Theatre Issil, Rabat
Thursday 22 February from 18.00 – 19.00 uur or from 20.00 – 21.00
Location: ZID Theater, De Roos van Dekamaweg 1, Amsterdam
Language: Arabic
Admission: free
Reservations: reserveringen@zidtheater.nl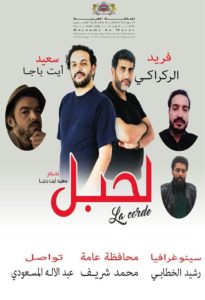 We are proud to welcome our fellow organisatio, the renowned Moroccan theatre company ISSIL, "Atelier pour la culture et l'art", from Rabat. They will present their play: La corde.
La corde
This humorous play, with music and text and featuring the well-known actor Said Ait Bajja, is about dreaming. All of the characters have their own dreams. The man dreams of becoming a famous writer. His wife dreams about motherhood and how it will be. The man's brother aspires to become a popular musician.
However, many problems and obstacles are in the way of realising dreams. The man can't find the right subject matter for his book and therefore uses problem-ridden elements from his private life. The woman can't have children because her husband never has time for her. In a humorous way, the performance shows the dynamics among family members – between dreams and reality.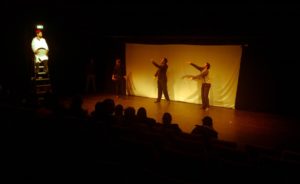 Artistic team:
Text: Mohammed Boubbo
Director: Said Ait Bajja
Actors: Said Ait Bajja, Farid Regragui, Rachid El Khatabi, Abdelilah Msoudi en Sidi Mohamed Najah.
Set Design: Rachid El Khatabi
Technique: Sidi Mohamed Najah