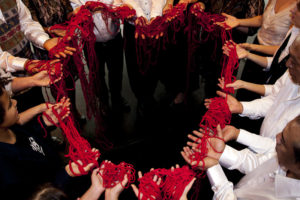 Peter Brook (1925) is one of the most important directors of the 20th century. Over his long career he has changed theatre fundamentally. In his latest interview with Dutch daily newspaper Het Parool he told Hans Smit: "Journalists often ask me what the future of theatre is. I always have a simple counter question for them: What is the future of food? It is there as long as we need it to be there, and the same goes for theatre, as far as I'm concerned."
Brook, famous for his book The Empty Space (1968) and his Théâtre des Bouffes du Nord, thousands that art, and especially theatre, is as essential to mankind as food is. It is a basic need. Obviously, he means this symbolically, to express the notion theatre can give people a satisfied feeling, can still a kind of mental hunger. In doing so, it can also generate a feeling of communality, of solidarity. Theatre is able to expose deep rooted human themes and make us reflect on the possibilities, alternatives, and new perspectives in our lives. Theatre can make the invisible visible. It can help us to reveal and understand complex issues with artistic means.
Here at ZID we are often asked to make social issues and bottlenecks visible through theatre. Together with the people most closely involved, the 'hands-on' experts, and the people who actually have to deal with these issues. The next step is then to come to our own understanding of these issues with the help of others, people from various disciplines who can look at the problem from a different perspective: artists, actors, video makers, and musicians.
Of course, we could just perform plays by Shakespeare or Molière, or stage the Greek tragedies, as they after all also address all aspects of human nature. But there are many people who are not familiar with these classics of Western culture and who don't have the option or don't feel the need to study them. At ZID we reach those people by actualising these social issues, by finding a contemporary form for them that people can instantly understand and recognise.
This reminds me of the project Make Your World (December 2017), in which young people made the subject of loneliness among this age group visible. So much personal drive and motivation became visible and tangible on stage as these youngsters performed their own songs with your own lyrics and showed their own videos.
These scenes were alternated with ZID's own actors who in their performance interpreted the underlying problematics and causes, such as living between two cultures, growing up, gender issues. In this way, the theme was expressed on various levels and, in addition to the autobiographical statements by the young people, a deeper layer was also revealed. Together we attempted to find an answer to questions such as: Why do so many young people feel they are alone, nowadays, and what would it take to change that feeling?
Working in theatrical formats functioned at two levels. It provided a close-up look into the experiences of young people, and also an opportunity for reflection on certain issues. When these two levels meet, theatre becomes—in Peter Brook's words— like food. Just like food is a basic need for the human body, theatre is a basic need for the human soul.