OUR STAGE – Erasmus+ project focused on young Roma and Sinti artists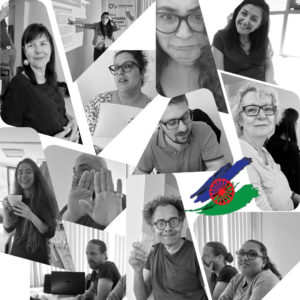 Website: https://europa260.wixsite.com/ourstage
ZID Theater can proudly say that from 2022 until 2024 it is a partner within the international Erasmus+ project 'OUR STAGE'.
The aim of the project is to address open racism and exclusion in Europe, especially against the Roma, Sinti and other traveling communities. A counter voice will be offered against structural racism by focusing on a different narrative. A different story will be told about the Roma community, approaching the image of the Roma community from a positive side! The intention is that on the one hand the negative stereotypical image of the Roma can be contradicted and on the other hand young Roma can proudly say: 'I am Roma'.
The project is a collaboration of seven theatre companies and cultural organizations from different countries in Europe : RomPraha (Czech Republic), JA International Theatre (Portugal), Theater am Lend (Austria), OECON (Bulgaria), Fundacio Pere Closa (Spain), Ellan Passe (Greece) and ZID Theater (Netherlands). Each theatre company will be represented by a group of young adults, many of whom have a Roma background. During this project they will create one theatre piece, divided into 3 parts, which will be performed in Portugal, Austria and the Netherlands.
ZID Theater is one of the seven partners within the 'OUR STAGE' Erasmus+ project, and is artistically represented in this project by, among others, Ivana Nikolic. Ivana is a dancer and artist with a Roma background, with whom ZID Theater has collaborated several times in the past. Her way of working fits well within the ZID-tradition, and her deep-rooted connection to the subject of this project makes her the right maker to shape this project artistically. A performance and a film will be made with the young people with Roma roots.
ZID will approach various organizations in the Netherlands that represent the above-mentioned groups to work together. In this way, ZID Theater wants to give this often unseen group of people a stage.