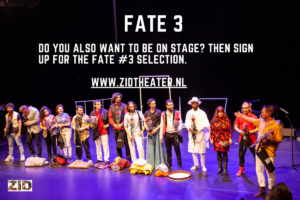 The new training programme in performing arts FATE #3 will start in September 2023. Potential participants can apply for selection!
ZID Theater is looking for creative status holders, newcomers and people with a migration background aged 18 and above, who would like to take part in a training programme, with the possibility of creating their own short performance afterwards. Are you or do you know a musician, actor, dancer, performer, or someone interested in support work, such as production, PR, fundraising or theatre (lighting and sound) technique
A training programme will run from September to December 2023, looking at participants' specific performing arts talents and how to develop them. This programme ends with a presentation for an audience in December/January of the participants' own short plays. The aim is to gain more insight into opportunities in the Dutch and international cultural sector. After this, it may be possible to further develop your short piece into a performance in cooperation with ZID and/or play in other performances.
The application procedure has started! Deadline: August 14, 2023.
Read more here or apply directly via https://forms.gle/FRSrnfmjFcxT1TCHA
We are looking for
On stage: Performers, actors, musicians & dancers
Behind the scenes: production, PR, fundraising & theatre (lighting and sound) technique.
Aged 18 and above!
ZID Theater will launch a Training Programme for the 3rd time., after the successful FATE 1 and 2. We are looking for people who are interested in developing in the performing arts and see a future within this field!
What is the FATE programme?
The FATE programme is a 4–9-month course (there are selection rounds during the process), where participants are trained to strengthen their own talents and explore the arts sector in the Netherlands. After the first 4 months (late August – December) there will be public presentations. After this, several participants can move on to a follow-up program (January – May) in which they set up their own small productions under supervision. The goal is that participants can, partly through this program, connect with the Dutch cultural field, and further develop and present themselves there. The participants for a trajectory "behind the scenes" receive individual guidance and a suitable work experience placement.
Program on stage
Dates
The Future Lab: a week of training as a kick-off and selection

Two days mandatory attendance

Monday, August 28 (18.30 – 21.00)
Tuesday, August 29 (18.30 – 21.00)
Wednesday, August 30 (18.30 – 21.00)
Thursday, August 31 (18.30 – 21.00)
Friday, September 1 (18.30 – 21.00)
A series of workshops in which we focus on professional skills and artistic development
Ten weeks

Three hours a week

September to November

Dates still to be decided on

Creating artistic presentations

November to December 2023

Dates still to be decided on

Presentations for audience
December

Date still to be decided on
The behind-the-scenes program will be individually scheduled.
Time investment
Stage: You participate in a program of 6 hours per week, where you must be present. In addition to this you independently prepare short assignments or your presentation, for this you need at least 2 – 4 hours per week.
Behind the scenes: You spend 6 hours per week at ZID Theater to attend your individual trajectory and need 2-4 hours to independently do additional assignments and preparation.
Because these are individual trajectories, a schedule will be made with the participant.
Follow-up
After following the training (late August – December) you can be selected, by mutual agreement, for the follow-up project: develop & make your own work and/or perform in a group show. This is a production trajectory in January-April in which you will make a short performance under supervision or play in a group production that will premiere during ExploreZ Festival, May 2024. It is also possible to participate in one of our international projects in the follow-up project.
Costs
The training is free to attend as we want to give everyone a chance.
We do ask for a full commitment and a professional attitude.
After successful completion of the training program, we offer you a recommendation. And you can join the international platforms FATE and TONE and become a part of our international network. After following this programme, you could be selected, by mutual agreement, for the next phase. This is a creating project in January-April in which, under supervision, you will create a performance that will premiere at ExploreZ Festival, May 2024.
Language: Dutch and/or English (depending on the selected group)
Application and selection
Apply using this form: https://forms.gle/FRSrnfmjFcxT1TCHA Deadline: August 14, 2023.
Selection interviews: from 21st of August EXPANDED for participants up to age 24 and those interested in "behind the scenes".
Selection interviews: from 28th of August
Stage: Selection and introduction week: August 28 – September 1.
After September 1 you will hear whether you can definitively start the program
For any questions and more information, please contact us at, academy@zidtheater.nl,