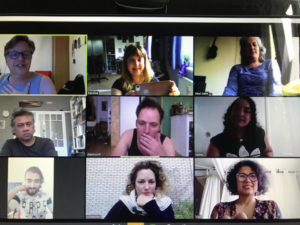 Time has caught up with us again. We, the world population have been hit by one of the biggest virus outbreaks ever. Even though this might sound strange, as a result, we have become one again. This disaster brings the world back together, beyond borders, cultures, countries, continents and diversity. Because now we have a common enemy and we don't have to pick our sides.
As a result, our profession as theatre maker and culture maker has become practically impossible, because performances and meetings cannot take place.
For how long? For a while? If that's the case, we can do our profession in a different way. Digitally, writing, and in preparation of future projects. But if it takes a long time, if it takes a very long time, our profession will surely be threatened and emptiness will arise. At the moment, a dark cloud is rising over the cultural sector, because we have lost our foundation and have been put on hold. In these turbulent times, when the whole world is heading in one direction, the cultural sector is torn apart. The politicians are putting the painful reality that has long dominated the discussion fully on the agenda: the difference between small and large institutions is very clearly emphasised. And yes, the largest ones would be helped out. But the rest, they would have to figure it out for themselves. They would have to search hard, grope in the dark, struggle, get by or not and cease to exist. It has often been stressed that there is already too much on offer. Is this also done in other cases, where only the largest catering establishments or gyms may use the measures?
This raises the questions I have been walking around with for a long time. What is the role of art and culture nowadays? Isn't it time to re-examine this and place it against a number of values? First, art and culture should be of great importance to the people – the audience or participants. Then it should make a difference, adding something to these people's lives that they couldn't live without. And all these effects would have an impact on people, their environment and the country and world we live in. Then I inevitably come back to the difference between small and large. Suddenly it turns out that especially the small clubs make a huge difference in all areas. At the same time, the big ones, with few exceptions, are hovering somewhere above the people they actually try to reach, being intangible and inadequate.
And yes, as an expert on both from within, I can safely say that it shows the value that these organisations have to their audiences. The small organisations, led by driven people, succeed time and time again in taking on an important social role. They are topical, reflect on everyday life and are diverse on all fronts, like the world around us. They are in the frontline when action is required, which is now also visible.
Numerous digital artistic and cultural initiatives have been set up, mainly by the small clubs, which act quickly and are engaged. They record programs, initiate conversations, sing in the gardens and wander through the neighbourhoods, make the goody bags, colouring pictures and games…
Just like the makers of ZID, who are in 100% uncertainty, but who are still looking for ways to not let anyone down or loose anyone: our makers, participants and our audience. As far as I am concerned, we may be "small", but I am convinced that we are of great significance. And my question is what would happen if a cultural organisation was "measured" based on their impact and not on their size? Because politicians and recent policies are striving for "greatness" we are left with paralysis and anonymity in the arts and culture. The authenticity lies precisely in the opposite, identification with certain persons and stories, recognition and connection. And that is precisely the strength of us – the little one, with a strong urge to survive and the ability to