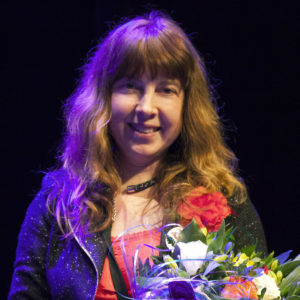 Karolina Spaić receives International theatre award 'Grozdanin Kikot'
On 24 March, it was announced that Karolina Spaić had won the international theatre award 'Grozdanin Kikot' for her contribution to the development of drama and education.
---
The international theatre award 'Grozdanin Kikot' was established by the Centre for Art Education of Bosnia and Herzegovina in Mostar, in 1996. Its goal is to link theatre education and the Humanities to art and social involvement. It is an annual award that is given to three individuals who have made a special contribution in the field of art education and social involvement.
Karolina about her prize:
'I am very happy to receive this award, as it brings together everything I have done in theatre so far. Recently, we have published our book 'ZID 1992-2014', a reflection of the professional journey of ZID Theater, covering the years after my graduation from the theatre school in Utrecht. But before that, already as a teenager, I have worked a lot in theatre in what was then Yugoslavia. This was in studio Skozoriste, left by the renowned drama educator Ljubica Belianski Ristic. In the 1970s, we performed a few times in Mostar at the Mostar Youth Theatre Festival, organised by Sead Djulic. Both the city of Mostar and that unique initiative have always kept the place in my heart. In 2001, when the war in the former Yugoslavia ended, I returned with ZID to Mostar, where we played with the production Dictionary of Nomads. To this day, this is one of the most impressive experiences I've ever had. This torn, distorted city, without its beautiful bridge, and although young people looking for a different reality, a reality that would not make them think of the war. I feel honoured to receive an award from Mostar, because the strong ties that we created have survived, in spite of everything that has happened. I strongly believe in the power of theatre: the enormous power to make the impossible happen.'
Recently, an interview with Karolina Spaić has been published (in Dutch) on the website of 'Wij'.