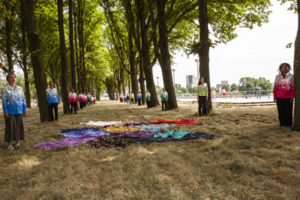 This month, September 2018, we were organising the fourth edition of ExploreZ. Since 2016, the festival took place three times, twice in Amsterdam and once in Belgrade, in Serbia. The ExploreZ Festival is part of the large-scale EU project Caravan Next.
For us, the artistic team of ZID, the goal of ExploreZ has always been to create a platform. A platform to explore the relationship between the arts/performing arts and their social impact, in an international context. We have found that the spirit of the age and current events keep catching up with us, posing new questions, time and again. We, makers, artists, and local residents try to find our own answers to these questions in the festival productions.
ExploreZ 2018's theme was exploring New Freedom. Why new? Because it is not about social or political freedom but about the freedom of the individual in relationship to others. In these times of technological innovation, digitalisation and globalisation we return to the core: to human beings longing to be free.
The operative word is explore. Explore freedom with us and take part in the unique productions made by professionals and local residents together. Dare to explore, meet the international makers, engage in dialogue and debate.
For this edition we have succeeded in making a long-cherished wish to come true. After many, many years, ODIN Teatret, with founder and director Eugenio Barba, returned to the Netherlands. Like no other, this world-famous company has developed a universal theatre language, in which music plays an important part. For us as ZID Theater they are a wonderful example of theatre that is never afraid to enter into dialogue with the spirit of the times. Their production Great Cities Under the Moon could be enjoyed in Theater de Meervaart, with an introduction with Eugenio Barba.
ODIN last visited the Netherlands in 1998 on the invitation of Emile Schra of the PassePartout Foundation. On that occasion, Babar was interviewed by the recently deceased Loek Zonneveld, who stated:
"Personally I think the only explanation for the fact that the work of ODIN Teatret is not known here, this provincialism."*
With ExploreZ we are showing how theatre and other performing arts can continue to appeal to people from an intrinsic, unique power. As Eugenio Barba said in that same interview:
I am convinced that in our technological and virtual civilisation theatre will turn out to be the only technique by which two human beings can look each other straight in the eye.
For this edition of ExploreZ we have worked together with many partners in Amsterdam and The Hague and with makers from abroad. In addition to ODIN Teatret, you will frequently saw the names of Omma Studio Theater from Crete, Greece, Teatr Brama from Goleniow, Poland, POD Teatar from Belgrade, Servbia, and DAR Amsterdam from Larache, Morocco in the programme. We are happy and honoured with all the makers, partners, local residents, staff members, and volunteers who have made ExploreZ 2018 possible.
.
* De andere Odysseus [The Other Ulysses], seven texts about theatre maker Eugenio Barba, PassePartout Publications 1988.