TTT 2022 international meeting in Madrid (Spain)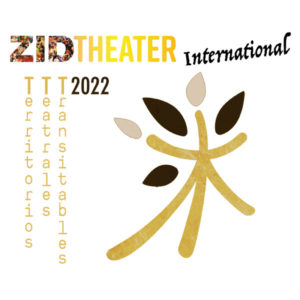 ZID Theater is invited to participate and present its work at TTT 2022 in Madrid. It is the 4th International meeting on theory and practice of the performing art, with the participation of 50 theatre artists around the globe and keynote speaker Eugenio Barbra of ODIN Teatret (Denmark).
TTT stands for 'Territorios Teatrales Transitables', which means something like 'passable theatrical areas'. TTT 2022 is organized by Residui Teatro from 15 to 19 September 2022 in Madrid. With the participation of 50 theatre artists around the globe and Eugenio Barbra, founder and director from ODIN Teatret and the International School of Theatre Anthropology. Barba is one of the most important theatre directors in Europe and maybe even worldwide.
The program consists of workshops, presentations, work demonstrations, conferences, performances and talks. The important issue is the strategy and authenticity of work from the theatre groups that belong to the spectrum of the informal network of 'Third Theater'.
Karolina and Sebo from ZID Theatre (Amsterdam) will give a presentation about ZID's work, methodology and strategy.
Invited artists: Eugenio Barba and Julia Varley (Odin Teatret, Denmark), Ricardo Iniesta García (Atalaya Teatro, Spain), Iben Nagel Rasmussen, (Odin Teatret and The Bridge of Winds, Denmark), Horacio Czertok (Teatro Nucleo, Argentina-Italy), Caterina Scotti and Rigoletti Alessandro (TTB Teatro Tascabile di Bergamo, Italy), Luis Ibar (Cartaphilus Teatro, Mexico), Viviana Bovino (International Residui Theater Laboratory, Spain), Etelvino Vázquez (Teatro del Norte, Spain), Teatro Contadores de Mentira (Brazil), Teatr Brama (Poland), ZID Theater (Netherlands), Teatro a Canone (Italy), Bárbara Luci Carvalho y Bernhard Bub (Freie Antagon TheaterAKTION, Germany), Abraxa Teatro (Italy), FABRICA ATHENS (Greece), Il Melograno y Studio (Italy), Teatro Ridotto (Italy), Tor Arne Ursin (Grenland Frieteater, Norway).
Thanks to the Erasmus+ Program and EU CES, La Paz es una Obra de Arte (University of Antioquia, Colombia), European project TONE and ACT-ABLE.
LINK: http://www.residuiteatro.com/ultimas-noticias/ttt-2022-english-version