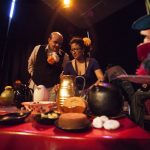 From the 25th of september till the 1st of octobre there is de 50th BITEF – Belgrade International Theatre Festival. ZID Theater collaborates together with POD Theater from Belgrade in the programme of BITEF Polyphony. This collaboration takes place within the EU project Caravan Next.
ZID Theater and POD Theater will make a presentation: "Theatre TOUR: Love and other demons ".
Director Karolina Spaic and actors Claribel Rodrigues Castillo and Mahmoud Ibrahim will travel to Belgrade. The presentation will take place in public space at the first of octobre.
The tour will start at "Brankov most"  and will finish at the Cultural Center Grad.
For more information: http://festival.bitef.rs/bitef-polyphony-01-10/
The collaboration with POD Theater will be continued in Decembre at the ExploreZ festival.
At this festival POD theater en ZID Theater will present each their own version of the theatre production "LOVE".