Wanneer:
19 mei 2021 @ 11:00 – 13:00
2021-05-19T11:00:00+02:00
2021-05-19T13:00:00+02:00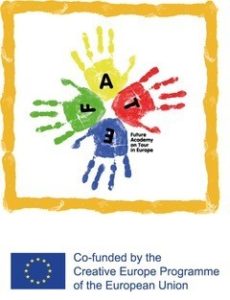 Creating opportunities for newcomers – refugees and migrants within the cultural sector in Europe.
On May 19 from 11.00 – 13.00, there will be a digital international, inspirational Meeting – The Real Chance.
This conference takes place as part of FATE – Future Academy on Tour in Europe (2020- 2022), an international project granted by the Creative Europe program of the European Council.
FATE creates bonds between the European cultural field and newcomers. For more information visit: https://zidtheater.nl/en/fate-2020-2022-2/
The Inspirational Meeting is for cultural and artistic organisations across Europe (theatre, fine arts, film, photography, music, heritage and education and, organisations that work with refugees).
You will discover more about the FATE project, and the possibilities to connect on a European level and to join us.
During the conference, you will hear more about the partners and their activities, the best experiences from the practice from guests and exchange ideas for the future.
You will have a chance to meet, exchange and make plans for the inclusion of the migrants and refugees in the cultural life of Europe.
Partnering organisations:
ZID Theatre (The Netherlands), Atalya Teatro (Spain), University of Turin/ SCT (Italy), DAH Teater (Serbia) and Studio 7 (Germany).
Language: English.
Translation available: Spanish, Italian, Serbian, German.
If you need a translation in any other language, please let us know.
Please confirm your participation, before Tuesday 18th of May.
Contact us via: info@zidtheater.nl
Join our FATE community and build equal possibilities for Newcomers in culture in Europe!