C.E.M.: Creative European Methodology – Erasmus+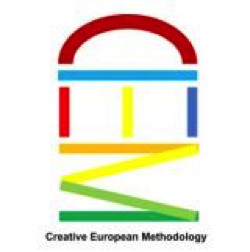 The project Creative European Methodology (C.E.M.) is an Erasmus + project (Key Action 2 – Partnerships for creativity) that aims to develop a methodology that reinforces creativity and promotes quality and innovation in isolated contexts. This project is supports artists, but also trainers, entrepreneurs, educators, teachers, coaches, and those that wish to enhance their creative and innovative skills in order to adapt to the increasing digital context of our everyday life. After the rapid changes that COVID-19 brought into our lives, «online» alternatives are replacing face-to-face events. Cultural professionals need to acquire advanced digital competencies in order to work online and maintain the high standards of their work. CEM project provides a new creative and innovative methodology for working in isolated spaces; a new curriculum focused on structured work plans in isolated contexts; and online courses about creativity and innovation.
The pandemic COVID-19 showed that face to face methodologies are not always possible or appropriate. In cases where people are isolated, the online alternatives can be proven highly valuable. Nonetheless, for cultural professionals this is not so easy; the current methodologies are designed for physical work and environments where people can interact with each other. In order to overcome these challenges the CEM project will develop a new creative and innovative methodology focused on how to work in isolated spaces Develop a new curriculum about creative and innovative learning and structured work plan Develop an online course of creativity and innovation in isolated spaces which will be based on blended and distance learning and training research.
More info is available on the project website: https://cemproject.eu/
The consortium of this project is made of international partners with complementary profiles. The promoter, Stichting Amsterdam European Mobility, is specialized in training, research and consultancy in the field of Digital Competence applied in various disciplinary sectors. Clictic holds a strong social and educational link, with an innovative training path in the world of educational, creative and artistic methodologies, managed based on new digital technologies. EIA – Atlântica is experienced in the creation, transmission and diffusion of knowledge, sciences and technology through the articulation of studies, teaching, research and experimental development in several areas, such as Business Sciences, Health, or Information Technology and Engineering. Asociación Cultural Integra has a huge network of European, regional and local entities working in the cultural sector, as well as a high expertise in managing European projects related to training, social inclusion and mobility. ZID Theatre has an inclusive approach to connecting art and social issues, as well as its own working method that transforms current social issues into artistic processes. Universita degli Studi di Firenze has vast expertise in the education and training sector, with significant experience managing projects ranging from ICT & eLearning, employability and special needs education, volunteering, professional teacher training and education.
Project code 2020-1-NL01-KA227-ADU-083
Project title C.E.M.: Creative European Methodology