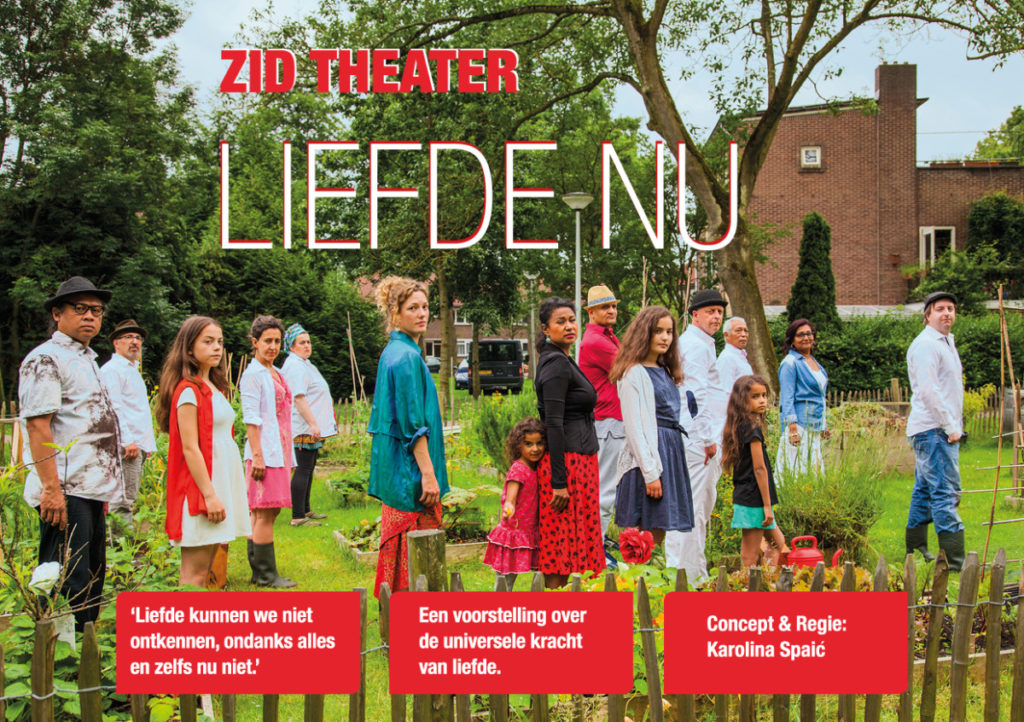 Love cannot be denied, in spite of everything, and not even now
In the new ZID production LOVE NOW director Karolina Spaic and twenty performers from various parts of the world are looking for the ultimate power of love. The performers make a personal statement in which the power of love is the answer to the uncertain times we live in. Inspired by well-known stories of love such as Gabrielle Garcia Márquez's Love in Times of Cholera, Albert Einstein's correspondence and Arabic poetry, the performers wrote the most wonderful love letters to their loved ones. This production explores love and relationships within the context of family, friendship, one's personal environment, politics and the world. It also sheds light on the challenges, obstacles and current events that test the power of love.
Love Now on tour
ZID has now also developed an 'On Tour' model for the project. In this model, ZIDs work methods are combined with local artists and the community. This means that for every location, a new, authentic version of the production is created out of existing elements and fresh local input. For ZID this means en extra opportunity to spread our methods and introduce this unorthodox form of theatre to various parts of the world.
Next performance: Belgrade, ExploreZ festival, Saturday, september 30, 17.00 – 19.00.
Concept and director: Karolina Spaić | Artistic team: Daan Bosch, Andrada Maria Şimo | Dramaturge: Céline Buren | Composition and soundscape: Fiora Beuger | Set design: Simone ten Bosch| Production: Loulou Sjerps | Performers: Sebo Bakker, Ista Bagus Putranto, Claribel Rodriquez Castillo, Jos Daamen, Gökhan Aksoy, Lara Bakker, Imane Bekkaoui, Steven Bosch, Mahmoud Ibrahim, Nanda Jagdew, Emmanuel Lucas, Marieke Lucas, Tina Pereira Filipe, Barry Romeijn, Ortwin Tjon Sjoe Sjoe
Love Now had its premier during the ExploreZ Festival, the  14th of  december 2016 in Theater de Meervaart, Amsterdam.
Also you could see the production in
2016
2 October |Rembrandtpark festival | Amsterdam, outside location
14 December | Theatre de Meervaart | Amsterdam | opening night International Theatre Festival ExploreZ
16 December | Podium Mozaïek | Amsterdam | International Theatre Festival ExploreZ
2017
18 February | Laak Theatre | The Hague
11 March | ZID Theatre | Amsterdam
29 April | Stadsschouwburg Amsterdam | in cooperation with Toneelgroep Amsterdam | HERE WE ARE – Love
15 June | LOVE NOW | in English | International Festival Festuge | ODIN Teatret | Holstebro, Denmark
15 July | De Slaatuinen | Neighbourhood campsite Slotermeer | outside location
30 September | LOVE NOW | in English | BITEF Polyphony Festival & Explorez Festival | Belgrade, Serbia
A special soundscape, a mix of Balkan music and poetic sounds created by composer Fiora Beuger, augments the surrealistic world and colourful dance.
Allow yourself to be persuaded by the world of ZID Theater in which energy, enthusiasm and a positive message set the tone. Love Now is part of the international ExploreZ Festival.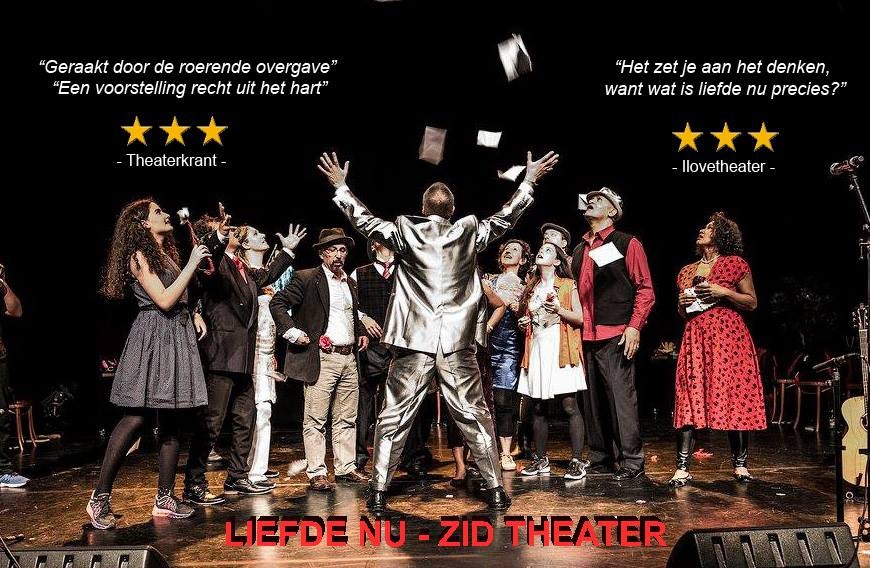 Photo: Maria Morales