Interview met DAH Theater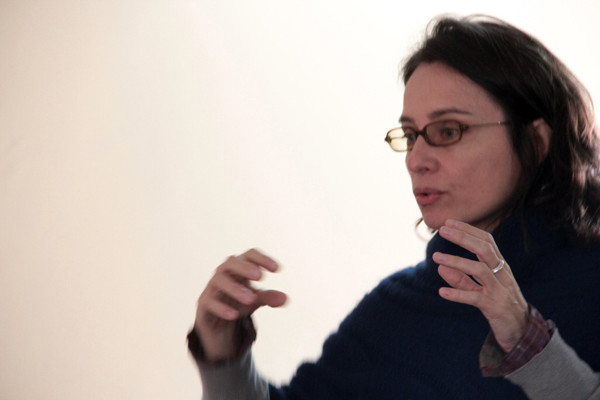 Jadranka Andjelic, co-founder and director of DAH Theatre:
"DAH Theater aims to initiate change, not to be a pamphlet theater"
One of the international theaters participating in the ExploreZ festival this year is the DAH Theater from Belgrade. This socially engaged theater is one of the four partners of our ZID Theater in the EU-sponsored FATE project, which seeks to create a link between EU citizens and new migrants and refugees through artistic development, inclusion, and their growing employment in the cultural sector. The DAH Theater will present itself to the Dutch audience for the first time with two performances in English, "Terra" and "25 Glasses of Wine". Especially for this occasion, we spoke with its director Jadranka Andjelic.
DAH Theater was founded back in 1991. How did you and Dijana Milosevic come up with the idea of the first alternative theater in the former Yugoslavia, just at the time of the war?
At that time, Dijana and I were graduates of the Faculty of Dramatic Arts in Belgrade and we were looking for a more experimental, freer, and modern language in the theater that we did not find in our traditional school. Back then, only state theaters existed. So it was a bold idea and it coincided with the start of the war, which we didn't expect. On the other hand, this moment has asked us important questions, "what can be done in times of destruction?" We have learned that the only way to survive this period of the war is to create some meaningful things by continuing to engage in art and expressing all our doubts or contradictions. And this beginning has greatly marked our work and activities to this day. Some episodes from the history of our theater can be seen in Dijana's theatrical lecture "25 Glasses of Wine" which talks about how to overcome the slightest understanding of violence, and destruction, very often in a human way.
Audiences in Amsterdam will also have the opportunity to see your performance called "Terra", which connects gardening with the stories and processes of migrants. Can you tell us a bit more about the making process?
The idea arose from my need to speak about the problems of migrants in a more compassionate way that isn't historical or fragile and can somehow move the audience. "Terra" was created after watching a documentary about a group of migrants from Syria who were relocated. Whole families, friends, and villagers have moved to different places in Europe. The men were desperately screaming "you can't do this to us", they were treated like objects. In the performance, I tried to show how we, as modern people, treat many things in this way, including plants. We can plant them, replant, let them die, or replace them with other plants that are more to our liking. Our goal is to call for a more gentle, compassionate way in relation equally with nature as with us humans. It is a simple play with a fantastic performer who is also a singer and who is slowly creating a connection between the gardening, caring about the plants, and the people. Through the planting, the songs from different cultures, the video that takes an important part in the performance, the real plants and real earth on the stage, we want to touch people, so they start to feel compassion towards others who are going to be removed by some others' decisions. This is important. The migration we are speaking of today is not voluntary. It is people running from some danger. They didn't want it to happen that way and we need to be aware of it.
Speaking of the migrations, you are participating in the FATE project. What you are trying to achieve with this?
As one of the partners in the FATE project, we share an interest in the topic of immigrants and the destiny and position of newcomers in our society as the whole of Europe. We are participating as a Serbian partner and the situation in each country differs. The situation in Serbia is very different from the one in the Netherlands. But with this international project, we are trying to think about this issue and maybe plant seeds in Serbia for more projects that include migrants, creatives from various groups, and nations who come to our country, because it is a completely new subject in Serbia. Also, we hope we can contribute with our small creations and learn from the experience of our Dutch, Spanish and German partners.
Did you get a chance to include any migrants in your performances so far?
The position of migrants in Serbia is specific in the sense that Serbia is more of a transition country. Very few migrants want to stay here. Unfortunately, Serbia has camps under the supervision of officials according to strict rules and they are often not allowed to do many things without clear papers. It takes a lot of bureaucracy, and permission to get involved in various activities. So this greatly complicates any project that wants to involve migrant newcomers. And we can expect more and more to come. Serbia will change, society will change and we must be more open to secure the future. Migrants will not always be someone else, unwanted others. In the case of our performances, the aim is to enable the community to receive migrants.
Over the last 30 years, you have created a variety of performances and workshops relying on modern techniques to foster positive social change. Was it successful? Did you initiate that change?
I think this mission started because of the choice of engaging in contemporary theater based on research. This means that all topics from the technical, aesthetic, and theatrical side to the intellectual, historical, or spiritual side are in the process of research. Thus, the process of making plays serves all participants to self-reflect and reflect on this society, ourselves, and all relationships in social history. That process is transformative and we believe it's necessary to be transformative for everyone involved in theater-making. And in this way, we can certainly change ourselves, including changing others in our immediate environment, and then beyond. It is very important that our audience feels the transformation that is happening in the performer. Speaking about performances in Yugoslavia and Serbia, we dealt with very sensitive and worrying topics, but we never tried to give just one answer. We approached topics from a deeper level and different perspectives. That helped our audience to leave the theater with wider views.
Have you had political problems due to the sensitive nature of what you are doing?
Our performances are primarily artistic constructions, often poetic and using various texts and literary sources, not always dramatic. Sometimes very direct, sometimes more poetic, but we don't do pamphlet theater. It helps us to communicate with a wider audience, and on the other hand, it protects us in some way. We don't want to tell anyone what to do. It's like putting things on the table and then reflecting on how things stand. There were some problems, not because of the performance but because of the collaboration with Zene u Crnom (Women in Black, an anti-war movement in Serbia). Yes, we experienced pressure, but there was no attack. Many people do not support Zene u Crnom and the idea that there was genocide in Srebrenica. But our theater supports interpersonal relations and collaborations with other Ex-Yu countries and we don't get into fights. Our answer is always to create new performances, new bridges, and new relationships that bring people together. In this way, we can oppose lies in the best way. If we want to oppose distraction, fascism, and racism, we must expand the field of tolerance, understanding, and national and international cooperation.
You performed all over the world. How are you perceived outside Serbia?
Every country, every audience, or city, is a little different. This can be felt in the presence, in the reactions. For a theater creator, and especially for us, it is a very valuable experience that when we create a play, we reckon that it will be presented to an international audience. We never count only on words and the meaning of performance and think as, ok, people will understand. The totality of visual expression, body language, dance, music, and singing is taken into reconsideration. We learned that there is nothing that the audience will not like or understand. If the show is really about communication, the audience is much more open. Whether they come from cities, villages, or from north to south, people are very open to experiencing something. Our feedbacks are positive from all sides, from the US to Greenland, Singapore, and Australia.