Masterclass Eugenio Barba & Julia Varley – ODIN TEATRET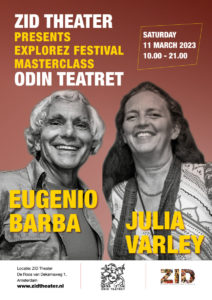 Saturday 11 March, 10:00 – 21:00 uur
Location: ZID Theater | De Roos van Dekamaweg 1 | Amsterdam
Ticketlink: https://www.eventbrite.nl/e/masterclass-odin-teatret-tickets-537792049497
ZID Theater is very proud to welcome theatre director Eugenio Barba and actress Julia Varley from ODIN TEATRET (Denmark/Brazil) for a masterclass on Saturday 11 March, as a preview of ExploreZ Festival 2023. An exciting one-day programme of workshop, film projection, work demonstration/performance and talks.
MASTERCLASS PROGRAMME
• PART 1 | Workshop: The Echo of Silence – Julia Varley | 10.00 – 12.00
Vocal course focusing on the unity of the physical impulse with the vocal text with action, of the sung with the spoken, trying to recognise the individual voice together with the choir and to reach the generosity that belongs to the voice given to space. Note: It is mandatory to pre-register at reserveringen@zidtheater.nl, as there is a limited number of places for this part.
• Lunch break | 12.00 – 13.30
• PART 2 | Masterclass: Creative principles – Eugenio Barba, Julia Varley | 13.30 – 16.00
The creative act is to transpose, structure and surprise. The master class will try to define the different levels of dramaturgy in the work on a theater show and the basic aspects of theatrical anthropology touching on topics such as: actor's dramaturgy and its physical and vocal actions; dynamic physical score and narrative structure; dramaturgy of the director and text; movement and action.
• Afternoon break | 16.00 – 16.30
• Extra programme | Film + Presentation | 16.30 – 18.00
Film: The Art of the Impossible – The Long Journey of Eugenio Barba and ODIN TEATRET + Presentation | 16.30 – 18.00
A documentary that tells the amazing story of ODIN TEATRET and its founder and director Eugenio Barba. The film starts from the very beginning of this theatre company in a dark bunker in Oslo to the versatile experimental projects that are realised today in Denmark.
Presentation: the different international networks connected to ODIN TEATRET and ExploreZ Festival.
• PART 3 | Work demonstration/Performance: The Flying Carpet – Julia Varley | 19.00 – 20.00
Text is a carpet that must fly far away. Julia will take us on a journey of more than 40 years of practice of her vocal work exemplifying the words' passage from the written form to space, from the coldness of paper to the freedom of interpretation.
• Closing words by Eugenio Barba | 20.00 – 21.00
ZID invited ODIN TEATRET in 2018 and now they are back in the Netherlands, as a preview of ExploreZ Festival 2023! ExploreZ Festival 2023 will take place from May 12 to 21 in Amsterdam. It is an international, multidisciplinary festival where new vibrant work of theatre, dance, music and cross overs find place. Come to explore a creative space with NO LIMITS!
PRICES/ TICKETS:
We have kept the prices as low as possible to make it accessible to everyone. You can attend one part individually (€ 45) or all the parts together (€ 115):
Part 1 (workshop): € 45
Part 2 (masterclass): € 45 (excl. service costs)
Extra program: included if you book part 1, 2 and/or 3
Part 3 (work demonstration/performance): € 45 (excl. service costs)
Closing words: included if you book part 3
1 PART: € 45 (incl. 1 ticket of your choice for a performance at ExploreZ Festival)
2 PARTS: € 75 (incl. 1 ticket of your choice for a performance at ExploreZ Festival)
3 PARTS: € 115 (incl. Passepartout for ExploreZ Festival)
Part 1: The number of places for the workshop is very limited! Participation in this workshop requires a certain amount of experience in the performing arts. That is why registration is required (send an e-mail to reserveringen@zidtheater.nl). Based on this pre-registration, participants are selected and invited to pay.
Part 2 and/or 3: Buy your tickets at https://www.eventbrite.nl/e/masterclass-odin-teatret-tickets-537792049497 as soon as possible, since there is a limited number of places!
ODIN TEATRET is a well-known international theatre organisation, founded in Oslo (Norway) in 1964 by theatre director Eugenio Barba. The theatre activities have resulted in the development of cross-disciplinary projects and international collaborations. One field of research is the International School of Theatre Anthropology (ISTA) where actors and dancers from all over the world meet with scholars to compare and scrutinise the technical foundations of scenic presence. Another field of action is the Theatrum Mundi Ensemble which, since the early 1980s, presents performances with a permanent core of artists from several theatrical traditions.
ODIN TEATRET's activities include: Odin's own productions; cultural initiatives; encounters for theatre groups; didactic courses of various types; publication of magazines and books; production of films and videos; the International School of Theatre Anthropology; productions with the multicultural Theatrum Mundi Ensemble; the Transit Festival for women in theatre and the project 'Living Archive Floating Islands' in Lecce, Italy. ODIN TEATRET has created more than 80 performances directed by Eugenio Barba, in 65 countries.