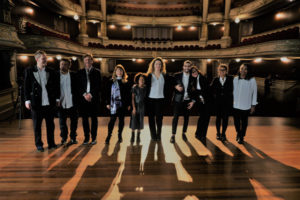 Many people speculate and predict how theatre will look like after the corona crisis. What will change, what have we learned during the corona pandemic? I am convinced that just like after any major crisis, art and theatre will change. But how? Usually, after violent events in world history, it is the time for transition and renewal with the performing arts.
Theatre makers such as Stanislawski and Meyerhold experienced the peak of their artistic career during the beginning of the October Revolution of 1914 and shortly afterwards again. In France, actors like Decroux and Lecoq transformed theatre before and after World War II with their new methods and ideas about physical theater. From this, a whole new discipline emerged: mime. In post-war socialistic Poland, also a dark period, stage director Jerzy Grotowksi wrote the book Towards a Poor Theatre after he had only made a few performances himself. This book permanently changed certain ideas about acting. The question now is: Will the corona crisis also lead to such major shifts in the history of the performing arts?
For example, will the digital experiments provide lasting change? I doubt it, they mainly seem like temporary bridges, a technical solution to be able to continue the work anyhow. Most of these digital performances will soon be replaced by live events. This is obvious, because if there is one art form that still has the unique power to communicate directly with its audience, it is theatre and the performing arts in general.
And that force is the flame that will also keep theatre alive in the future.
What do I personally expect? I notice something new when I look at myself and other makers, which is even more commitment to certain subjects, current affairs, personal experiences of the world, politics and other current issues. The performing arts, which has the power to address topical political issues, has been limited for a long time to entertainment (cabaret, stand-up comedy) or pseudo-topical theatre, in which for example a classical text (Shakespeare, Greek drama) is edited, and the classical theme is given a modern twist. However, these versions often lack depth and connection with current events of today's society. Real political theatre has largely disappeared from the stage, a critical opinion is seldom expressed, and major social and communal problems of our time are rarely articulated. Most of the time, all that's left is politically correct theatre with a small dose of humor.
After this long and radical crisis, will it be a challenge for artists to respond to these events? In the future, will we go to the theatre as if we are going to a very important meeting, gathering or demonstration, and will we become a part of it?
Will the spectator, as a passive "observer" and consumer, change into an active, involved co-creator, "co-actor"? Where is room for new discussions to emerge? How are we going to organise the theatre space to enable the active participation of spectators? Shall we be guided by the examples of the Danish ODIN Theatre and its director Eugenio Barba, and create space in each performance so that the spectator can undertake the role of both guest and observer and come into close contact with the actors?
I sometimes wonder if we will be able to have live discussions at all, after a year of online meetings, where the discussion is strictly organised and controlled, and the moderator can silence the participants at any time or even remove them from the meeting with one click.
In her interview for the podcast The Last Bohemians in March 2021, renowned performance artist Marina Abramovic answered the question of what she thinks the future of art is:
"For me, the future of art is a dialogue between artists and the audience, without obstructions from any object. Only a direct transfer of energy. And I really believe this is the future."
How does the future of theatre look like after corona? Perhaps in theatre we can and may choose for ourselves, and say it when we think something is fundamentally good, not only in form and performance, but also with regards to the relationship that is established with the audience. That we are unable to "turn off" the audience when they are no longer exciting enough, as we can do now with digital presentations.
Perhaps we mainly emerge from this crisis as active spectators – as participants in a unique and interactive experience that lies at the core of a theatre performance. And where, even during a performance, you (still) have the choice to stay or leave.