Wanneer:
29 januari 2023 @ 15:00
2023-01-29T15:00:00+00:00
2023-01-29T15:15:00+00:00
Waar:
ZID Theater | De Roos van Decamaweg 1 | Amsterdam | The Netherlands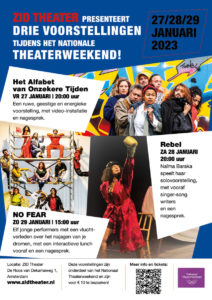 As part of the National Theatre Weekend, NO FEAR will play on Sunday 29 January at ZID Theater!
NO FEAR is a vibrant and visual performance about chasing your dreams for the future in a new country, made by participants of the FATE-project. FATE (Future Academy on Tour in Europe) offers opportunities to creative newcomers – refugees and migrants – within the cultural sector of Europe. NO FEAR is the conclusive performance of FATE#1, the first group of this international trainingprogram, supported by Creative Europe/EU and produced by ZID Theater. This challenging trajectory, focused on offering opportunities to a new generation of European citizens, is being carried out in collaboration with Atalya/TNT (Spain), Social Community Theater (Italy), DAH Teatar (Serbia) and Studio 7 (Germany).
Prior to the performance, there will be an interactive lunch for those interested, including a presentation by TONE (Talents of New Europe), a network of artists with a flight history. After the performance there will be a follow-up conversation/network moment with music.
Program:
13:30   Walk-in
14:00   Interactive lunch and presentation TONE
15:00   Performance: NO FEAR
16:00   Follow-up conversation/network moment with music
This performance is part of the National Theatre Weekend and can be visited for € 10!
More info: https://nationaaltheaterweekend.nl
Tickets: https://www.eventbrite.nl/e/tickets-no-fear-tijdens-nationaal-theaterweekend-474598355457
Credits:
Director: Daan Bosch; Performance: Abdulkadir Tufan, Andrina Omar, Aya Bini, Nivin Baranbo, Talal Nashawi, William Simonyan; Dance: Issam Zemmouri, Bboy TheShadow, Zaher Hamzat; Music: Odai Alhayek, Semere Welday; Artistic coach and trainer: Sebo Bakker; Artistic advisor: Enkidu Khaled; Photos: Ibrahim Selek; Technical support: Delal Yuce, Marsel Tsjitahjan; Production: Lot Wuisman; Production intern: Djan Matar; Director and artistic leader FATE: Karolina Spaić; General manager: Susanne Hazen.
Special thanks to: AFK, Stadsdeel Amsterdam Nieuw-West, Stadsdeel Amsterdam West, VSB Fonds, FCP, Vriendenloterij, Prins Bernhard Cultuurfonds, Theaterweekend, Theatre in Palm, Creative Europe and Erasmus+.