Wanneer:
23 november 2022 @ 11:30
2022-11-23T11:30:00+00:00
2022-11-23T11:45:00+00:00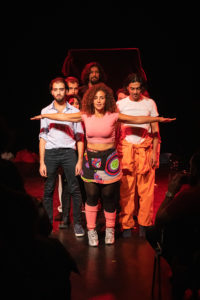 NO FEAR performs again at ZID Theater, this time especially for the students of the ROC of Amsterdam. The eleven FATE participants will present their vibrant performance about pursuing your dreams for the future in a new country twice for the NT2 groups.
NO FEAR is a vibrant and visual performance about chasing your dreams, made by participants of the FATE project in the Netherlands. Eleven young performers, with roots in six different countries, build on their future in a new country. Personal motivation, bursting energy and a versatile style, take the audience on this impressive journey.
NO FEAR is the conclusive performance of FATE, the international trainings program supported by Creative Europe/ EU and produced by ZID Theater. FATE – Future Academy on Tour – offers opportunities to creative newcomers – refugees and migrants – within the cultural sector of Europe. Status-holders with professional experience and ambition in the performing arts are supervised for two years, resulting in a theatre production. This challenging trajectory, focused on offering opportunities to a new generation of European citizens, is being carried out in collaboration with Atalya/TNT (Spain), Social Community Theater (Italy), DAH Teatar (Serbia) and Studio 7 (Germany).
More information FATE: www.fate-europe.eu