Wanneer:
30 november 2022 @ 18:00 – 21:00
2022-11-30T18:00:00+00:00
2022-11-30T21:00:00+00:00
Waar:
ZID Theater
Roos van Dekamaweg 1 Amsterdam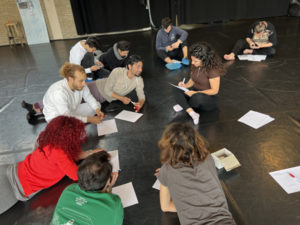 On Wednesday evening 30 November from 18:00 to 21:00, ZID Theater organizes a workshop 'planning, financing and executing your project'. The workshop will be given by Susanne Hazen, business manager of ZID Theater.
Are you motivated, enthusiastic and would you like to implement your ambitions, but do you not know exactly how to approach this and what is involved? Then this workshop is for you!
In this workshop we will teach you different skills, which you need to set up and carry out a project. Covered topics include:
– What should you think about when you want to start a project?
– How do you plan your project?
– What do you want to achieve with your project?
– How do you make a budget?
The workshop will be very practical. This means that you are already getting started with your future, desired project. This can be anything: making a solo performance, organizing a workshop, course or event, etc. To benefit fully from this workshop you will receive homework. You will do your homework at home and take it with you to the workshop.
We will also present the results of the Erasmus+ project Tone.
Costs: Free! We do ask you to prepare yourself well.
Sign up: Send an e-mail to organisatie@zidtheater.nl
After registration you will receive the homework. Therefore, sign up quickly, so you have enough time to prepare for the workshop!
This workshop is part of the European project Theatre in Palm and is made possible by Creative Europe and AFK.