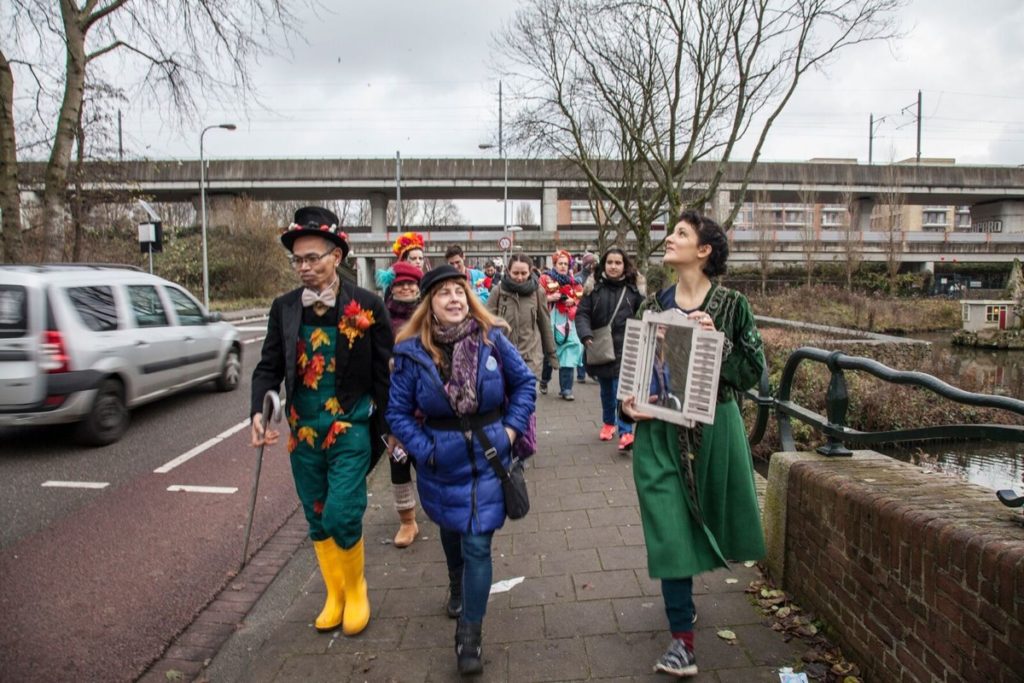 I can take any empty space and call it a bare stage.
Peter Brook
What space are we occupying with art today? Or what new space can we create for it?
Clearly, there is a shift taking place in the role that theatre and art have in society. What is the theatre of the future and who will be making it?
In cities such as Amsterdam the make-up of the population is changing rapidly. Local and global go hand in hand. The little stories of someone around the corner are fusing with the big literary stories. And the news is constantly overtaking our reality.
We are discussing the city as a tourist attraction, but are we aware of how many wars are being waged in the world at this very moment? Are we already part of them without knowing it? And do people actually still need theatre, I sometimes wonder.
In countries where there are conflicts, where dictators and poverty rule, theatre often has a healing effect. There it is a very essential tool to keep people together on a spiritual level. Medicine for the soul. A bandage for the community.
But here, in the Netherlands, in Europe? Is art still an essential element of our society?
And who are the people who look for art? Is there a way to change the path we know and build a new path to an art form that we make together and share with each other? Perhaps we should go back to the origin, when sharing rituals and stories was the most important thing.
I try to visualise this new space. It is not a theatre and also not a circus tent. Just "a bare stage". Or maybe not even that.
Until now, my experience is that this new space is primarily created at the moment when the distance between performer and audience becomes shorter, when the dividing line dissolves. At the moment that we are together inside a space and the exchange of energy begins.
That is what I am trying to achieve with ZID Theater, time and again. Each performance, each programme has its own challenges. Soon, on 29 April in the Rabozaal, the big challenge will be to engage the audience. Such a theatre is a difficult place to achieve this. It is large, and formal. The roles are already fixed, divided into who is looking and who is performing, into spectators and actors. But in this new space things would happen in relation to each other. It is not about bricks or buildings, but about the movement toward each other.
And this can be a real challenge, particularly in such 'formal' places. It is not about spectator stands on the stage or having actors mingle with the audience either. That's not what I mean. In my view it is about energy that starts to flow. From the stage to the audience and back again.
That is the challenge I am aiming for.