When:
2021-09-03T19:30:00+01:00
2021-09-03T19:45:00+01:00
Where:
ZID Theater
Roos van Dekamaweg1
Amsterdam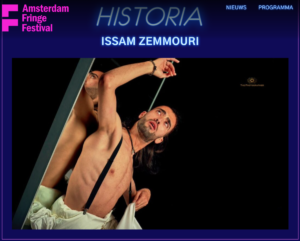 During FRINGE festival 2021 Historia, the solo of ZID performer Issam Zemmouri, will premiere!
In his solo he combines contemporary dance, physical expression and visual poetry. Historia is a journey that stretches across the Mediterranean through different cultures, languages and civilisations. We are taken on a personal quest for liberation, passing future, present and past. Within this an eternal question lays hidden: Can I be myself?
On September 3, 4, 10 and 11, Issam will share his poetic solo with us at the ZID theater as part of FRINGE festival. The try-out will take place on Friday September 3rd and its official Dutch premiere on Saturday September 4th!
More information on: https://zidtheater.nl/en/historia-issam-zemmouri/