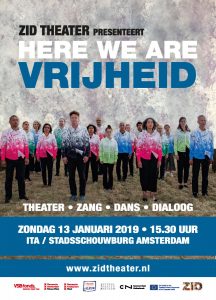 ZID Theater's new programme Here We Are – Freedom will be presented in the ITA – International Theatre Amsterdam on Sunday 13 January  2019 at 15.30.
In a programme brimming with theatre, dance, music and dialogue, moderator and spoken word artist Babs Gons explores the various layers of freedom in our current society, which is changing every day. Residents, actors and singers representing today's Amsterdam take the stage in the set of ITA's performance The Fountainhead. ZID reverses the theme of that production. In Here We Are – Freedom we counter the individualism of today with collectivity and diversity.
Is freedom for me the same as freedom for us?
This is the central question director Karolina Spaić poses to the actors, participating artists, guests, citizens and politicians. We expect a dynamic afternoon with more than 40 performers, both young and old and of very diverse backgrounds, together representing today's Amsterdam.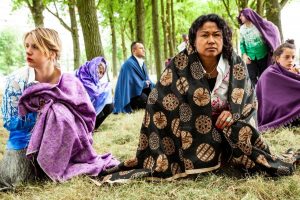 Credits:
Concept and Directors: Karolina Spaic & Daan Bosch; Moderator: Babs Gons
ZID Theater ensemble with Sebo Bakker, Claribel Rodriguez and various guests, including Gospel Choir The Revivals, Osni Seye, hip hop from Senegal; poets: Vivian Deekman and Farida el Yahyaoui, students from the Amsterdam Conservatoire.
13 januari 2019; 15:30
ITA  – International Theatre Amsterdam (Stadsschouwburg Amsterdam), Rabozaal
Leidseplein 26, Amsterdam
Tickets: € 10,- / 5,- Buy your tickets here