Lara Bakker and Hajar Fargan selected for Remix Comix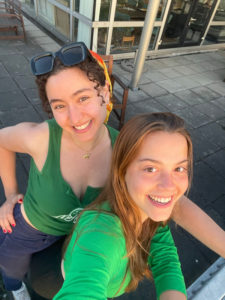 ZID Theater congratulates Lara Bakker and Hajar Fargan. They have been selected on behalf of ZID Theater and the Multimedia Center Led Art from Novi Sad and Agency Komunikart from Pancevo, for the first residency program within the new European project "Remix Comix" that will take place from 17 to 31 October 2022 in Novi Sad, Serbia.
The invitation was open to one or two makers from the Netherlands with no age restrictions of the participants, who have learned and practiced the VerhalenVanger methodology. The organizer provides accommodation and compensation for the participants of the residency.
"Remix Comix" is a project supported by the European Commission through the Creative Europe program and realized in collaboration with six organizations – MMC Led art Novi Sad, Lustr Fest Prague, Komunikart Pančevo, Forum Ljubljana, ZID Theater Amsterdam and Foundation Novi Sad – the European Capital of Culture 2022 Novi Sad.
The project aims to explore the local cultural heritage of the area, specific historical moments, important figures, urban legends and heroes of the region and present them to the public in the form of comics. The specificity of the project is to look at the local cultural heritage from the point of view of various socially sensitive and vulnerable groups, whose representatives will be involved in working with artists through workshops and meetings. The workshops will also be given with these participants. The ultimate goal of the AIR program is to create a work of art in the form of comics in public space.
Ten participants from four countries – the Czech Republic, the Netherlands, Slovenia and Serbia – will work together on the same task for two weeks. The language of instruction of the participants is English.