"Eleven young performers, with a refugee-background, build on their future in a new country"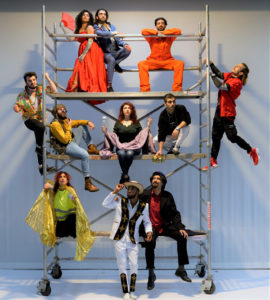 Vibrant, intense and hilarious performance about chasing your dreams.
In NO FEAR eleven young performers, with roots in six different countries, are building on their dreams for the future. In a dynamic interplay of text, dance, music and imagery, they create a new world out of nothing. The road to get there is long and hard, but the baggage they bring from their youth gives them the strength to overcome all kinds of difficulties.
NO FEAR is the concluding performance of the international project FATE – Future Academy on Tour in Europe – supported by EU/ Creative Europe. For two years ZID Theater coached 25 talented young makers with a migration-background.
The performance NO FEAR
An empty stage. A cloaked group can be seen and heard from afar. One person leaves them, with a stick and piece of cloth in his hands. He tells his story, while building a structure. A door? A house? A memory? The others join him one-by-one. Together they continue to build… their future.
The interdisciplinary performance NO FEAR is about where you come from and where you want to go. Which impossibilities you have to overcome in order to shape your own future. What do you take with you and what do you leave behind? A recognizable rite of passage for young adults, within the dramatic context of the flight to a new country and life.
What will the future bring? Do I want to be an actor? Do I want a better future for my children? I want to conquer fear! I want to bungee jump, I want to be myself, scream, act crazy, and build my own life…
Eleven young performers, with a refugee background, build their future in a new country. Their journey has been a challenge, in which they had to conquer fear, but the real struggle starts once they arrive..
Personal motivation, bursting energy and a versatile style, take the audience on this impressive journey. A story of young people who put their perseverance to the test, and hold on to their dreams despite everything.
Background information
It has been challenging, to enter into this artistic process with makers from Syria, Turkey, Armenia, Eritrea, Palestine and Morocco, as well as Iran, Russia, Iraq, Serbia and the Netherlands. But so rewarding: An intercultural atmosphere has been created based on different languages, cultures and expectations, in which everyone has a place.
The performance is directed by Daan Bosch, a theater maker who has been associated with ZID Theater for seven years now. The performers are trained and coached by Sebo Bakker, artistic coordinator of ZID. Theater maker Enkidu Khaled – who is affiliated with Kaaitheater in Brussels – has also specifically been asked to act as an artistic advisor. Karolina Spaic, director of ZID, leads the FATE-project in terms of content, both in the Netherlands and internationally. In the future, ZID Theater will set up similar projects for 'unprecedented' talent, to contribute to a more diverse and inclusive cultural sector, while also creating opportunities for newcomers.
International project – FATE
NO FEAR is produced by the ZID Theater as part of the European collaborative project FATE (Future Academy on Tour in Europe), financed by Creative Europe. Within the FATE project, status-holders with professional experience and ambition in the performing arts are supervised for two years, resulting in a theatre production. This challenging trajectory, focused on offering opportunities to a new generation of European citizens, is being carried out in collaboration with Atalya/TNT (Spain), Social Community Theater (Italy), DAH Teatar (Serbia) and Studio 7 (Germany).
More information here: FATE 2020-2022 – ZID Theater | verbindt kunst, cultuur en samenleving
Credits
Director: Daan Bosch
Performance: Abdulkadir Tufan, Andrina Omar, Aya Bini, Nivin Baranbo, Talal Nashawi, William Simonyan
Dance: Issam Zemmouri, Bboy TheShadow, Zaher Hamzat
Music: Odai Alhayek, Semere Welday
Artistic coach and trainer : Sebo Bakker
Artistic advisor: Enkidu Khaled
Photos: Ibrahim Selek
Technical support: Delal Yuce, Marsel Tsjitahjan
Production: Lot Wuisman
Production intern: Djan Matar
Director and artistic leader FATE: Karolina Spaić
General manager: Susanne Hazen
With special thanks to: Creative Europe
Dates
Open rehearsal: 12th March 2022 – ZID Theater, Amsterdam
Try-out: 5th May 2022 – ZID Theater, Amsterdam
Premiere: 11th May 2022 – Podium Mozaïek, Amsterdam
Double-Bill with FATE Spain TNT/ Atalya: 15th May – OBA Oosterdok, Amsterdam
Dutch Tour: summer 2022
International tour: September/ October 2022